A quarter-page ad by the Bank of England in yesterday's Telegraph caught my eye primarily because it contained a QR code.
The print ad informs you that the £50 note featuring an engraved portrait of Sir John Houblon on the reverse side will be withdrawn from circulation at the end of April.
The ad also includes a phone number, email and website addresses, plus a QR code that you'd typically scan with a barcode scanning app on your smartphone to bring you something – further information, for instance.
So I scanned the QR code with a sense of anticipation, wondering what useful and interesting information I'd get.
More details about the withdrawal, certainly. Why it was happening, perhaps, and what to do if I have any such £50 notes in my wallet. Could I still use them on the High Street? If so, for how long?
When you scan a QR code, you'll usually get a screen asking you for permission to proceed and take the action suggested, eg, load up the browser on your device and retrieve the information linked to from the QR code.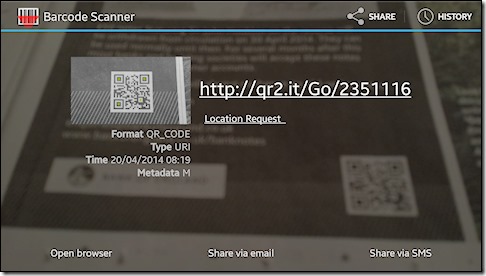 I tapped 'Open browser' and the result was indeed further information presented in a web page.
The trouble is, that web page is a page designed for use on a large screen such as you have when using  a desktop computer or a laptop, or even the ten inches or so on a full-size tablet.
Certainly not what you'd find useful (usable, even) on a five-inch smartphone like my Galaxy S4 when the browser tries to render the complete page on the comparatively tiny screen.
Even if you have perfect vision, that's nigh-on impossible to read.
With a bit of pinch-zooming in and out, though, I could see some very useful information on this page:
Details about the why and when of the note's withdrawal from circulation: amplified information of the concise text in the print ad
A link to "What to do with old 'Houblon' £50 notes," an informative video published last January where Victoria Cleland, head of the Bank's Notes Division, tells you the basics of what you need to know and what to do.
Links to two PDF posters, one in English the other in Welsh.
There's reference to an FAQ list but no link to it that I could see.
Given the clear trend to increasing use of mobile devices, what I wish the Bank had done was something like this:
Present everything anyone would need to know about the note's withdrawal from circulation in a manner designed for use on a mobile device.
Engage the visitor on a mobile device with content that brings that person into the story you tell – far more than simply dry information about the withdrawal of a £50 banknote.
Tell me about Sir John Houblon. I'd not heard of him (I don't see many £50 notes). I didn't know he was the first governor of the Bank of England, for instance, from 1694 to 1697 according to the Wikipedia entry. Or the story about the engraved image of him on the £50 note.
Use this as an opportunity to educate people and raise awareness about currency, reinforcing key messages about legitimacy, counterfeiting, etc.
And an opportunity to restate key facts about the Bank, it's role in the economy and in society in general.
Capture people's imaginations, in other words.
Instead, an opportunity gone missing.