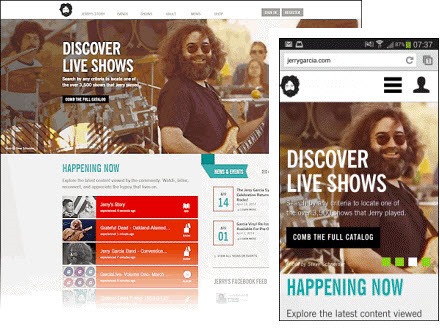 The websites of most musicians adhere to a highly predictable template. There's a bio, a page hosting some music, another with photos and video, a tour schedule, and a merchandise store.
In developing the recently-launched Jerry Garcia website, the team at global digital agency Critical Mass were anxious not only to explode the traditional artist's site, but also to take the website experience to a whole new level.
The site is a wonderland of content for fans of the iconic Grateful Dead front man, as well as a place to share their own experiences and content, and connect with friends – all within the site without reliance on third-party social networks. The concept is transferable to any brand that has a history, a lot of fans and a lot of content.
The site has earned high praise. When the site launched early this year (without the Parking Lot, where fans can share their own content), Rolling Stone's Mike Ayers wrote that the site features:
…a massive set of archival material for fans to explore, including 15,000 hours of recorded music and 3,450 shows, as well as timelines and information about 26 of Jerry's bands and 77 of his musical collaborators. Fans will also be able to 'follow' 10 different tours undertaken by Garcia's bands. …Garcia's family provided the site with a wealth of unseen photos, concert material, ticket stubs and even Garcia's own artwork to augment the experience. Currently, there are no plans to charge fans for access to the site's material and the experience has been optimized for mobile devices as well.
From MusicTimes:
The sheer amount of recordings available isn't even the best part of the deal. Fans will be able to trace ten of the tours Garcia embarked on with various bands throughout his career. For example, you could follow the entirety of the '77 Grateful Dead tour, listening to every concert set included. Nine of the included tours are from the Dead, but the '93 Jerry Garcia Band tour is included as well.
In this FIR interview, co-host Shel Holtz speaks with Mark Silverman and Amy Haiar, who headed up the Critical Mass team that developed the site after Silverman's outreach upon discovering the sorry state of the domain. (A big shoutout to original Inside PR co-host David Jones for letting us know about the work Critical Mass was doing on the site.)
Listen Now:
Get this podcast:
About our Conversation Partners
Mark Silverman, Planning Director – A culture-loving, creative problem solver, Mark is a user experience strategist focused on delivering extraordinary, results-driven, digital experiences for some of the worlds biggest brands.
With a background in science and technology, sociology, social psychology, and cultural studies, Mark joined the Critical Mass team in 2008. He is inspired by the ever-changing digital landscape and all things geeky.
Mark has covered various roles during his tenure at Critical Mass, including UX strategy, brand planning, analytics, content analysis, and account management.
Amy Haiar, Creative Director – With over 15 years of interactive experience, Amy has delivered thought leadership and award-winning experiences for brands like Harley-Davidson, Nike, Hewlett-Packard, Vail Resorts, USAA, and United Airlines.
She also led the creative effort for the first ever fully responsive, fully accessible heath care website for Humana.
With an eye for innovation and pixel perfection, Amy believes craftsmanship is critical to the art of web design, and lives by the overarching philosophy: make beautifully simple work.
Share your comments or questions about this podcast, or suggestions for future podcasts, in the online FIR Podcast Community on Google+.
You can also send us instant voicemail via SpeakPipe, right from the FIR website. Or, call the Comment Line at +1 415 895 2971 (North America), +44 20 3239 9082 (Europe), or Skype: fircomments. You can tweet us: @FIRpodcast. And you can email us at fircomments@gmail.com. If you wish, you can email your comments, questions and suggestions as MP3 file attachments (max. 3 minutes / 5Mb attachment, please!). We'll be happy to see how we can include your audio contribution in a show.
Check the FIR website for information about other FIR podcasts. To receive all podcasts in the FIR Podcast Network, subscribe to the "everything" RSS feed.
This FIR Interview is brought to you with Lawrence Ragan Communications, serving communicators worldwide for 35 years. Information: www.ragan.com.
Podsafe music – On A Podcast Instrumental Mix (MP3, 5Mb) by Cruisebox.
(Cross-posted from For Immediate Release, Shel's and my podcast blog.)