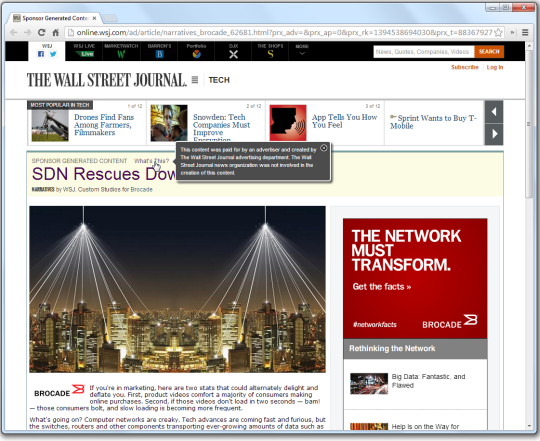 Does "native advertising" bother you?
When I was first asked that question, my response was the inevitable "It depends…" And that primarily means: It depends on how open and transparent the advertiser and the publisher are about the native ad.
Just what is "native advertising"? you may ask.
Here's what Wikipedia says:
Native advertising is an online advertising method in which the advertiser attempts to gain attention by providing content in the context of the user's experience. Native ad formats match both the form and the function of the user experience in which it is placed. The advertiser's intent is to make the paid advertising feel less intrusive and thus increase the likelihood users will click on it.
In other words, it's an ad that looks like the editorial content of the publication in which it appears – similar typeface, perhaps, certainly a similar presentation so it blends in – but clearly noted somewhere that it is content provided by an advertiser and not by the medium in which it appears.
It'll be variously described as 'sponsored content,' 'featured content,' 'brought to you by…,' 'in association with…,' or such like.
It's not the same as an "advertorial," a long-practised advertising method that is largely falling out of favour among many advertisers as media evolves – more publications are appearing especially online, many covering unique niches, and mostly published by people who aren't traditional media publishers – budgets tighten and more bang is required from that ad buck where methods of yore don't do so well any more.
And consumer behaviour is radically changing where the number of eyeballs on a mass medium ad increasingly has little to questionable relevance compared to the engagement possibilities through a more intelligent approach to advertising that reflects a greater respect for an intelligent consumer who expects more than just to be "advertised at" and, instead, can (and often wants) to do more with the advertiser's content.
(For a depth perspective of the new advertising/content marketing/consumer behaviour landscape and the role of native advertising, read Danny Brown's insightful assessment.)
A report in AdAge.com yesterday is the prompt for this post, about the Wall Street Journal's entry into the native advertising game.
AdAge sets the scene thus:
[…] Marketers want to work with publishers on native advertising partly because it gets their messages closer to the editorial content readers have arrived to consume. And publishers are not just offering it up; they're carving out new departments to produce the content, whether they're text articles, infographics or videos.
That piqued my interest in what the Journal is doing, and how they're doing it:
Starting Tuesday, a box with headlines, subhead text and thumbnail images teasing content produced on behalf of the data and storage firm Brocade will appear in the middle column of WSJ.com and on the technology front page, situated between editorial headlines. Wall Street Journal's custom content division, part of the business side of the operation, produced the ads, which will exist in a separate section of the website.

The ads will be labeled as "Sponsor Generated Content."
And here's what that looks like; I've highlighted the Brocade ad in a red box:
If you click on the ad – or tap it if you're reading the paper on a tablet – you get a new page on the WSJ.com website with expanded content about Brocade's offering presented in a similar fashion to a news story or feature:
Note these interesting characteristics about what you see:
The browser tab at top of the image shows just the description "Sponsor Generated Content" rather than the title of the web page or article as would be more common.
The lengthy web page address, the URL, in the browser address bar contains codes to enable metrics analysis from clicks and is clearly identified as a Wall Street Journal address.
Next to the legend 'Sponsor Generated Content' in capitals above the article headline is a link saying 'What's This?' Hovering your mouse over it produces a pop-out containing this text: "This content was paid for by an advertiser and created by The Wall Street Journal Advertising Department. The Wall Street Journal news organization was not involved in the creation of this content."
There is a byline which says "Narratives by WSJ Custom Studios for Brocade."
A clear separation of church and state, as it were.
This looks to me as an intelligent approach to transparency, with little chance of anyone concluding that there is any kind of subterfuge or deception about an ad dressed up as editorial. There is no deception.
I see it simply – if an advertiser offers content that a reader will find of use or value in some way; that isn't simple a "buy me!" approach that is characteristic of much advertising; that assumes the reader is intelligent and has a mind of his or her own; and is offered honestly and transparently, then this approach to native advertising probably has a good chance of success.
If the reader then acts upon what he or she has read – share it online among his or her community, at the very least – then you have achieved a measurable goal of engagement.
It's a good game!