The results of a new survey for BBC World News shows a surge in smartphone use for consuming news among affluent consumers compared to the general population. The BBC defines "affluent consumers" as the highest 20 percent income earners in each country surveyed.
What the BBC describes as the world's first study into the use of mobile by affluent consumers – over 6,000 such people were surveyed in Australia, Germany, Sweden, India, Hong Kong and the US – shows a 15 percent yearly increase in the amount of people who would prefer to use a phone to read the news compared to a 17 percent decline for desktop computers.
In terms of how those surveyed prefer to read the news on their smartphones, the results make that quite clear:
News apps are the most commonly used apps on affluent consumers' mobile phones, whilst social network apps are favoured by the general population.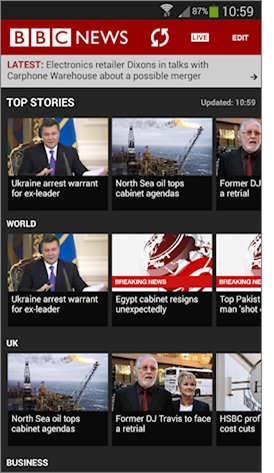 Speaking as a smartphone user of the BBC News app for Android devices, my view is that the app must present the user with a compelling experience to not only read the news but also be able to easily share it across the social web. You'd also want to be able to customise the app to your preferences and have it automatically update the news for you even when it's not open.
And you'd prefer such an app for news consumption and social sharing over other high-use apps such as social networking apps, and have the opportunity to use it for contributing news to the BBC if you want to.
The BBC's News app does all that and more.
The survey presents more rich metrics on mobile usage by affluent consumers:
51 per cent of affluent consumers use their mobile phone for business, compared to 40 per cent of the general population.
Affluent consumers are 18 per cent more likely to share their location to get relevant services than the general population.
A third of affluent consumers agree that, if a brand wants to be modern and dynamic, it needs to be on mobile – 15 per cent higher than the general population.
Mobile advertising is twice as effective as the proven desktop in driving key brand metrics such as awareness, favourability and purchase intent amongst the total population. This figure rises to four times as effective for affluent consumers.
High-income earners are as positive towards advertising on mobile (19 per cent) as desktop (18 per cent). The percentage who are happy to see ads on mobile websites rises to 41 per cent for sites where the content is free.
The BBC says that the results reveal the increasing importance of smartphones to affluent consumers and demonstrate the extent to which mobile devices are integrated into both their personal and their business lives, as improved technology enables greater engagement with content.
The study also provides evidence that affluent consumers – a large proportion of the BBC World News and BBC.com/news audience – are significantly more receptive to mobile advertising than the general population.
(The focus on and talk about mobile advertising reflects the BBC's commercial activity in markets outside the UK. Within the UK, we don't see ads on any BBC property: the BBC gets its revenue from the annual license fee everyone has to pay – widely seen as a tax – plus a government grant.)
Earlier last year, the BBC released the results of a survey that, for the first time, measured news consumption habits across multiple devices – the so-called "second-screen experience."
That survey offered some credible insights into the growing impact of TV, smartphones, tablets and laptops on the news consumption habits of more than 3,600 people surveyed in nine representative markets.
This latest survey reinforces key messages from that previous survey about the importance of mobile and smartphone usage to news organizations, advertisers and brand owners alike.
According to Jim Egan, CEO of BBC Global News:
This new research reveals significant change in mobile consumption – people are delving deeper into stories on their mobiles, consuming more video and, significantly, growing accustomed to advertising on their mobiles. This large study provides compelling evidence that mobile advertising works with affluent mobile consumers in particular and that has big implications for publishers and advertisers alike.
No doubt among the topics being discussed in Barcelona, Spain, this week at the 2014 Mobile World Congress.
Get an overview of the survey findings in this BBC infographic: