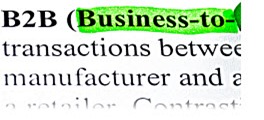 How do B2B communicators evaluate and integrate the changes happening from digital media? What are the top brands doing to maintain marketing and sales leadership? Who are the people shaping the ideas and thoughts around B2B brands and marketing ideas?
If you think B2B social marketing is just a minor variation on the practices that work in consumer markets, then a new podcast added to the FIR Podcast Network will show you otherwise.
Our new podcast is FIR B2B, debuting this week and next, then continuing every other week. Hosted by Paul Gillin and Allan Schoenberg, FIR B2B will cover the latest news in B2B communications, interview practitioners at innovative companies, and present weekly ideas and tips for making the most of online and in-person conversations. Paul is a veteran B2B journalist and co-author of the 2011 book, Social Marketing to the Business Customer; Allan is the London-based Executive Director of Corporate Communications at CME Group. Both are past guests on FIR.
A podcast focused on B2B marketers and ideas is long overdue. FIR has long covered B2B topics, but B2B companies were actually some of the first movers in social media and this market continues to evolve and shift due to technology. Companies like Sun, Microsoft and IBM were blogging years before blogs went mainstream and with B2B decision cycles longer there's an intense need for dealing with data and information at all stages of the buying process.
If you have ideas for topics you'd like to listen to and covered, we'd love to hear from you – join the conversation and leave your comments in the FIR Podcast Community on Google+.
You will find episodes of FIR B2B at the main website – www.forimmediaterelease.biz.
About Your Hosts
Paul Gillin is a veteran technology journalist and a thought leader in new media. Since 2005, he has advised marketers and business executives on strategies to optimize their use of social media and online channels to reach buyers cost-effectively. He is a popular speaker who is known for his ability to simplify complex concepts using plain talk, anecdotes and humour. He is the co-author of Social Marketing to the Business Customer (2011), the first book devoted entirely to B2B social media marketing.
Allan Schoenberg is based in London and responsible for managing the international media relations, issues management and brand communications for CME Group, the world's leading and most diverse financial marketplace. He was instrumental in launching the company's social media activity in 2007 and continues to lead its social strategy and online community engagement. He has more than 20 years of experience in B2B communications, including his work for Accenture, Edelman Worldwide and Fleishman Hillard.
About The FIR Podcast Network
The FIR Podcast Network is a series of business podcasts founded by Neville Hobson and Shel Holtz. The anchor podcast in the network is The Hobson and Holtz Report, a weekly show presented since January 2005.
For information about FIR, to see show notes for the podcasts and to subscribe, visit www.forimmediaterelease.biz. You can also subscribe via iTunes and other podcast directories.
(Cross-posted from For Immediate Release, Shel's and my podcast blog.)