"Our position is that a perfect storm is coming," say Joseph Jaffe and Maarten Albarda as an attention-grabbing way to start a discussion about ZERO: Zero Paid Media as the New Marketing Model, the new book by the two authors published by Wiley in October 2013.
It may already be here, adds Jaffe: "In the book, we introduce several key arguments – business, economic, consumer, media and creative cases – any of which could, by itself, be enough to be the straw that breaks the camel's back, but when combined presents a perfect-storm scenario."
In this FIR Interview, Jaffe and Albarda describe the central premise of ZERO to co-hosts Neville Hobson and Shel Holtz, explaining their thinking and passion behind ZERO's core principle: if media inflation continues to outpace and run away from economic inflation, the bottom may fall out the media model.
They explain the meaning behind each letter in the book's title – Zealots (advocacy), Entrepreneurship (innovation), Retention (customer-centricity), and Owned Assets (direct-to-consumer channels).
The two men believe that "ZERO marketing" is all about slow burn and long tail. "It's about using existing customers to gain new ones," they declare. "It's about utilizing customers and advocates in innovative ways, leveraging existing assets as opposed to piggy-bagging on the borrowed interest and/or equity of middlemen."
Specifically written for C-suite executives who work for leading brands, ZERO: Zero Paid Media as the New Marketing Model is a ten-point action plan that responds to Jaffe's and Albarda's no-holds-barred call to action for corporations and their marketers to adapt or die amid an increasingly turbulent, changing, and dynamic media landscape.
Listen Now:
Get this podcast:
About our Conversation Partners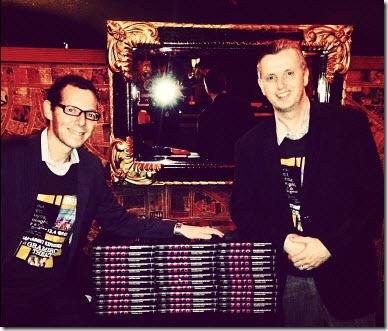 [Above: The two authors of ZERO (l-r): Joseph Jaffe and Maarten Albarda.]
One of the most sought-after consultants, speakers and thought leaders on innovation, marketing, new media and social media, Joseph Jaffe is Founder and CEO of Evol8tion, LLC (www.startupsforbrands.com), an innovation boutique that connects early stage startups with established brands to partner via acceleration, pilot programs and/or investment. Evol8tion's clients include Unilever, Mondelez International, Anheuser-Busch InBev, P&G, and Kraft Foods. He previously founded and ran social media boutique, crayon, before it was acquired.
Jaffe has authored four books, including Life after the 30-Second Spot, Join the Conversation, Flip the Funnel and now, ZERO – Zero Paid Media as the New Marketing Model (www.zeropaidmedia.com).
Maarten Albarda started his career as a media planner at JWT Amsterdam. Three years later he moved to Leo Burnett Amsterdam as Media Director. In 1991 he took on managing Philip Morris and P&G Europe, Middle East & Africa and relocated to London.
After eight years, McCann-Erickson tasked Maarten with the Coca-Cola Europe & Africa business. Two years later he moved with McCann to New York to take on global responsibility for Coca-Cola.
In 1999 Coca-Cola appointed him VP, Media & Marketing Asset Management to Coca-Cola Japan. The next four years were spent developing the first IMC World Cup campaign. In 2002 Maarten moved to Coca-Cola Germany to implement IMC for all brands and support the next World Cup campaign.
In late 2005 Maarten relocated to Coke's headquarters in Atlanta as Director, Global Media and & Innovation.
In 2008, Anheuser-Busch Inbev was formed as the world's largest beer brewer. Maarten joined the company's NY HQ in September 2009 as VP, Global Connections with responsibility for all consumer touch points.
In early 2013 Maarten formed MLA Consulting, LLC. He delivers strategic consulting on Integrated Marketing to Fortune 500 marketers and serves on several Advisory Boards.
Share your comments or questions about this podcast, or suggestions for future podcasts, in the online FIR Podcast Community on Google+.
You can also send us instant voicemail via SpeakPipe, right from the FIR website. Or, call the Comment Line at +1 415 895 2971 (North America), +44 20 3239 9082 (Europe), or Skype: fircomments. You can tweet us: @FIRpodcast. And you can email us at fircomments@gmail.com. If you wish, you can email your comments, questions and suggestions as MP3 file attachments (max. 3 minutes / 5Mb attachment, please!). We'll be happy to see how we can include your audio contribution in a show.
Check the FIR website for information about other FIR podcasts. To receive all podcasts in the FIR Podcast Network, subscribe to the "everything" RSS feed.
This FIR Interview is brought to you with Lawrence Ragan Communications, serving communicators worldwide for 35 years. Information: www.ragan.com.
Podsafe music – On A Podcast Instrumental Mix (MP3, 5Mb) by Cruisebox.
(Cross-posted from For Immediate Release, Shel's and my podcast blog.)