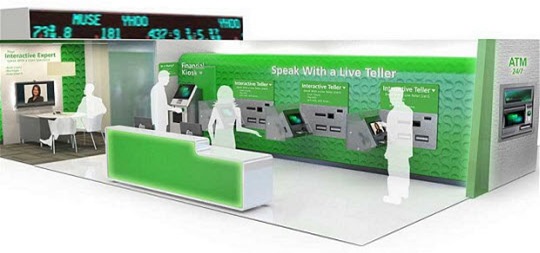 Retail banking in the UK is set for a radical change in how customers use branches, and what their experiences are like, over the next five years.
The Telegraph reports that some major banks are thinking about introducing "express" branches, similar to self-service checkouts in supermarkets. These smaller outlets would be almost completely devoid of human interaction, the Telegraph says.
[…] Martin Shires of banking technology firm NCR said: "As early as next year, you could see one of the major high street banks buying a convenience store location and fitting it out with ATMs that mean you can do 95pc of your transactions through self-service. Within five years this will be a common sight."

He said technology is now so advanced that all transactions could be screen-based, enabling banks to replace over-the-counter staff and leave just supervisors in branches.

[…] The new branches would be smaller and fitted with screens and telephones so that customers could call a specialist department for assistance. This might include a video link similar to the Skype internet telephone service.

Depending on the location, branches might have a "drive-through" option that [mimics] the services offered by fast-food chains such as McDonald's. Customers may be able to order a cash withdrawal on their mobile phone, take their car to the bank and collect the money in seconds by typing a special code into the drive-through ATM.
NCR, quoted in the Telegraph's report, is at the forefront of what the company calls branch transformation, geared to "transaction automation, customer satisfaction and, above all, customer retention" for banks.
And there lies the key element to this, it seems to me, where performing banking transactions are so much of a chore these days – if the trend is to have less physical bank presences on our High Streets, and smaller and tech-smarter ones at that, the customer experience has to be compelling enough that the likelihood of a bank achieving what NCR sees as the ultimate goal – customer retention – is worth the effort and huge changes and investments required in bank organizations themselves.
Yet is that really where trend projections see retail banking developing? Isn't it more about online and mobile banking where you conduct much of your financial activity via your computer – increasingly, that computer is a mobile device – with no need or desire to actually go to a bank branch on the High Street?
Or is it about multiple customer entry points, as it were, into their financial landscape where the bank is a navigator, guide and counsellor that enables the customer to quickly, easily and safely do the majority of his or her day-to-day financial transactions with smart technology tools via whichever method they prefer – online from the desktop or mobile, or in a physical bank branch, or a combination of all – with bank staff adding genuine value to customer relationships whether online or in a physical location, and so heading the bank towards that Holy Grail of customer retention?
Set those questions in the context of what some project for the future of banking as an industry: for instance, Building the bank of 2030 and beyond (PDF), an analysis and report on global banking from Ernst and Young. Or Bank branch of the future – Transforming to stay relevant (PDF) from Infosys. And Trends in Retail Banking Channels by Capgemini.
And add in innovation in what the existing retail banking experience can be due to the arrival of new players on the UK High Street such as Metro Bank, driving change across the sector in what "customer service" means.
I do all my financial transactions online. Rarely do I ever visit an actual branch. The only time I do is if I need to deposit a cheque – increasingly a rare occurrence these days as everyone I deal with does everything online.
But I did visit the local branch of my bank last week to pay in a cheque. I used an automated system – insert the cheque into a machine that scans it, shows it to me on screen to confirm what the machine's OCR software thinks is the amount; once I confirm it is, the system credits the amount to my account, and gives me a receipt that includes a highly-legible scan of the cheque. All done in about 60 seconds.
You don't need a human being to make that kind of routine transaction. Instead, the machines take care of the routine, leaving the human beings to take care of you.
I like the sound of that re-imagination.
Related posts: