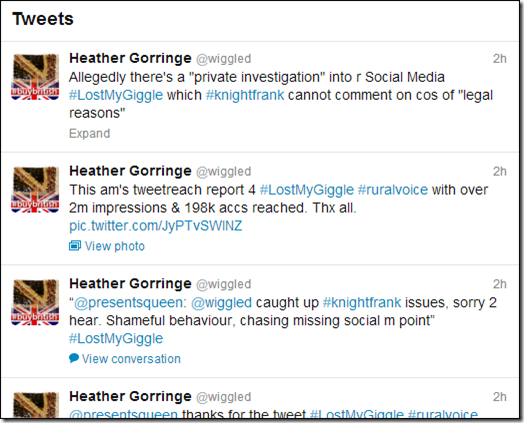 It's always very interesting seeing how the mixture of empowered social communication, Twitter and a hashtag can totally disrupt traditional communication and command and control behaviours.
We've seen this during the past week in two specific examples – the negative hashtag hijacking experience for British Gas (#AskBG), and the positive organization/consumer enlightenment experience for the Bank of England (#AskBoE).
As Shel and I discussed in this week's FIR podcast, a Twitter hashtag that's at the centre of a communication activity can be a double-edged sword.
So it's with great interest that I've been following developments on Twitter (and elsewhere on the social web, especially Facebook) over the past few days with #LostMyGiggle, #knightfrank and #ruralvoice.
The first hashtag is central to a developing story involving my friend Heather Gorringe, owner of Wiggly Wigglers, a mail-order gardening supply business in Herefordshire; and Knight Frank, the London-based estate agency firm with offices worldwide.
The latter two hashtags play supporting, amplifying (hijacking, even) roles.
The heart of the matter involves a disagreement between Wiggly Wigglers and Knight Frank over professional advice by the latter to the former concerning a planned property purchase.
While I can't comment on the details of the issue itself, I can comment on the communication and what's happening online as a one-sided conversation is building that's extremely critical of Knight Frank.
One sided? Yes, because the object of all of the criticism is absent from the conversation in the primary place it's happening.
And absent from its own hashtag, clearly ignoring this conversation that's extending there as well.
Just reading the tweets timeline over the past week and more tagged with #LostMyGiggle shows the number of voices expressing concern and outrage at the unprofessional way in which they believe Knight Frank has behaved in this matter is growing by the day.
The total number of tweets (1,254) so far may be small but the reach (2,202,698) is what counts more – look at the number of tweets and retweets and the indicator of network sizes of those tweeters – as Heather posted today.
Facebook is also part of the big picture. Heather noted that Knight Frank deleted a post on its Facebook timeline that she had commented on.
As I write these words, that post hasn't been undeleted by Knight Frank. Luckily for posterity, Heather took a screenshot before the post disappeared.
While I can also see all of this from Knight Frank's probable perspective – it's an issue that has potential legal, ethical and professional implications so no public discourse about anything – I can also see where staying mum isn't necessarily the best course of action.
Some people may think this is all totally irrelevant and has no importance whatsoever. After all, what difference can a small business in rural Herefordshire, along with its vocal social community, make against a global corporation like Knight Frank?
That's the wrong question, in my view. The TweetReach metrics Heather posted today give us a clue of what really matters here as the small number of critical voices on social networking sites continue to be critical, grow in strength and get amplified as more people discover or stumble across their posts.
Knight Frank should see all this as an alarm bell, a warning shot across the bows of reputation where they will be judged in how they address these online criticisms.
Ignorance is failure.