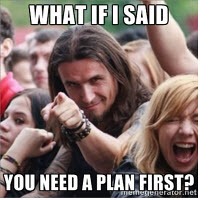 Two words I've heard mentioned a lot recently are "content marketing."
I use them myself at times, often in the context of helping people understand the value that can be derived from taking 'old' but still valid "content" – case studies, white papers, features, etc – and re-telling those stories in ways that work well in today's social communication climate, fit measurable business goals and meet the information needs of the people in the marketplace you want to reach out to.
The "marketing" part comes into play when you talk about disseminating the content  – not in the linear ways of old but in the far more dynamic, discoverable and shareable ways of today that extend way beyond your own outlets and embrace third parties and their outlets and channels.
Yet when I hear those two words being uttered, the meaning tends to focus far too much on the "marketing" rather than the "content." At the same time, rarely do I hear the word "measurable" when objectives or goals are mentioned.
That's a pity as it puts the cart squarely before the horse, and you (and most definitely your audience) will ultimately be disappointed if you do that. This is true whatever your focus: B2B, B2C, etc.
It's not about the marketing: it's everything about the content and measuring its value, ie, to the consumer and sharer of that content and to you as the publisher of it.
This notion was brought to front of my mind again after reading "It's Time To Demystify Content Marketing" by Will Burns in Forbes online earlier this week.
Burns makes a good case as he goes about his demystification. While his focus is on advertising, I see his arguments valid when applied to every other discipline – marketing, public relations, employee communication, investor relations, you name it.
What really caught my attention in his article, though, are six specific points he makes as the foundation for content marketing:
You still need to identify a clear objective for the piece. Content marketing is like [any] other piece of communication and should have a clear business objective.
You still need to identify a singular message.
You still need to identify a clear target audience.
You still need to understand the brand idea intimately so you can assess what the brand would and would not do when you're reviewing ideas.
You still need someone on the outside to produce the content. Outside of the agency, that is. That's not new and shouldn't be a worry. Might be a different kind of production house, but the model is the same.
You still need a great idea.
I agree – content marketing is a function, a business process, that requires the same thinking applied to its planning as you would for any other communication activity.
That means a plan that addresses or includes all those elements Burns mentions.
As part of the essential foundation for today, one of the desired goals for the content you create, curate and distribute must be that people value it, want it, will talk about it and will share it.
You know it makes sense!
Related posts: