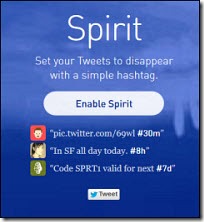 I guess it's inevitable that everyone reporting on Spirit for Twitter likens its self-destructing tweet service to SnapChat, the mobile app for real-time picture and video messaging that self-destruct after a sender-defined time, up to ten seconds.
Spirit is similar in outcome – tweets you send that you mark with a certain hashtag will automatically delete themselves after the set time has passed.
You get a lot more time flexibility than just ten seconds though: minutes, hours and days.
The service was developed by Pierre Legrain, an ex-Twitter engineer, who told ABC News in the US, "It's an invisible piece of software, like an enhancement to Twitter. You don't have to download anything and will work from wherever you tweet from."
Here's how it works:
Sign up at the Spirit of Twitter website.
Wait for a tweet from Spirit  to tell you that your account is active.
Start tweeting with an end-time hashtag for when your tweet will self-destruct.
I signed up for the service a couple of days ago and got my account-active tweet today. So I tried it out.
I set the tweet to self-destruct after 30 minutes by including the "#30m" hashtag:
Sure enough, after 30 minutes, the tweet had disappeared.
If you go to the actual tweet URL https://twitter.com/jangles/status/375869860602851328, you'll just get Twitter's standard 'tweet not found' error screen:
It's a clever idea, one that I can imagine marketers latching on to. Individuals, too, for personal tweets.
For instance:
Time-sensitive offers you want to tweet, where people have xx minutes to click a link. Great for contests.
Tweeting about an event or something where the tweet being seen hours or days afterwards would take it entirely out of context.
Tweeting your pals to meet up at a pub at 8pm; the tweet self-destructs after, say, 8.30pm.
So I'd expect to see a flurry of self-destructing tweets from experimenters as the service attracts more attention.
Yet I wonder what impact this disruptive tool will have on the Twitter ecosystem, eg, including the analytics aspect. And, once a tweet is gone, I think you'll need something far more effective than just the standard Twitter error page, the equivalent of a 404 error.
And what happens to an embed of a tweet on some web page or blog post that's marked for self-destruction? I guess it will show the error page as the actual tweet won't be around any more.
How about retweets and favorites? I RT'd my original tweet – and that RT'd tweet did disappear. But the favorite I saved? It's still there:
This latter behaviour may well be the off-putter to widespread use: if you want to use a service where tweets will self-destruct, you want to be sure of that. Sure, people can take screen shots, but at least you'd want to know that the tweets themselves will be gone.
And it's not clear what Twitter thinks of this – they could pull the plug on Spirit's API access, and that would probably be the end.
Still, I like the idea and can see benefits especially from a business point of view in a service that offers this type of outcome.
What do you think? Useful, or just a gimmick?