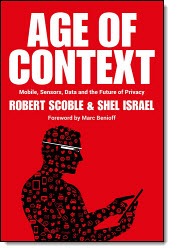 If you're a follower of trends in technologies and people's behaviours – and that mashup between the two – an event in London next month will be of interest to you.
On October 28, Robert Scoble and Shel Israel will be in London as guests of the Chartered Institute of Public Relations (CIPR) and their partner Precise to talk about the Age of Context – the title of their new book, out in November.
Age of Context is an embracing term to anchor five converging forces the two authors see as profoundly changing almost every aspect of work and life in the next decade: mobile, social media, data, sensors and location.
Age of Context is a follow-up to Naked Conversations that the two authors wrote in 2006. That book examined the then-emerging field of blogs and blogging and its disruptive effects on how businesses should communicate and engage with customers. (I reviewed it in Feb 2006.)
Naked Conversations is widely regarded as a seminal work that influenced opinion and corporate behaviours in many organizations in how people in those organizations communicate with customers and other stakeholders.
Seven years on and the landscape is very different and a more complex one than that described in 2006.
Where 'blogging' was 'social media' back then, today the latter term embraces a wide and deep spectrum of tools, networks, channels and behaviours across a huge social web that connects well over a quarter of the world's population.
I'm thrilled to have been asked by the CIPR to facilitate the conversation, as it were, with Robert and Shel at the evening event in London on October 28 that takes place at Google's new Campus London facility in the heart of Tech City in east London.
I'm sure this event will sell out fast – just look at how fast the official US book launch event in California on November 7 has sold out – so I suggest you get your London tickets now!
Everyone who comes will receive a free copy of Age of Context. And, the discussion with and between Robert and Shel and the audience (and those connected online via Twitter and other social media) will be recorded and published as a For Immediate Release Speakers and Speeches podcast.
Hope to see you there!
More information in the CIPR's press release, issued today.
Related posts: