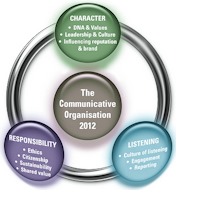 At the World Public Relations Forum 2012 in Melbourne, Australia, almost 800 public relations practitioners endorsed the Melbourne Mandate, a call to action of new areas of value for public relations and communication management. It was co-created by 1,000 people from 30 countries over the course of a year.
In this FIR Interview, co-hosts Neville Hobson and Shel Holtz discuss this Global Alliance initiative with the two architects of the Melbourne Mandate, Jean Valin and Dan Tisch.
The interview begins with Valin and Tisch explaining what the Global Alliance is and its work.
The two men outlined the purpose and scope of the Melbourne Mandate and its set of roles, responsibilities and principles designed to provide practitioners with a new mandate to define and maintain an organization's character and values; build a culture of listening and engagement; and instil responsible behaviours by individuals and organizations.
The wide-ranging conversation embraced discussion on the Mandate's three pillars of character, responsibility  – in particular, about trust and ethics – and listening; the Integrity Index, a tool designed to measure whether an organization lives up to its stated values in the minds of its internal and external stakeholders; and the Professional Development Wheel, a guide to the skills professionals need in order to practise to the full scope of the Mandate.
Valin and Tisch also spoke of the challenges in bringing the Melbourne Mandate to the attention of a wider audience within the public relations profession, and stimulating broader interest in it.
Listen Now:
Get this podcast:
About our Conversation Partners
Jean Valin, APR, FCPRS, founded Valin Strategic Communications after a thirty year career as a senior communication executive.  He has advised senior officials and ministers of the Government of Canada on communication matters throughout his career.
Valin is active in his professional association, the Canadian Public Relations Society and served as its national president in 1996-97. He was awarded his accreditation (APR) in 1987 and was called to the College of Fellows in 2001.
In 2000, he became a founding member of the Global Alliance for Public Relations and Communication Management. He was Chairman for 2004 and 2005 and continues to serve as ambassador-at-large. In 2008 he received the President's medal from the Chartered Institute of Public Relations in the UK and the Award of Attainment from the Canadian Public Relations Society in 2010 as well as in 2013 for his leadership in developing the Melbourne Mandate advocacy platform for public relations. He is a co-author of the official definition of public relations adopted by the CPRS in 2008.
Connect with Jean on Twitter: @jeanvalin1.
Daniel Tisch, APR, FCPRS, was the 2011-2013 chair of the Global Alliance for Public Relations and Communication Management,  a Fellow of the Canadian Public Relations Society and CEO of Argyle Communications, one of Canada's largest independent PR firms. He has lectured on public relations at Queen's University since 1996.
Dan led the Global Alliance to unprecedented growth, co-chaired the Melbourne Mandate process and the 2012 World Public Relations Forum, launched the GA COMM PRIX Awards and represented the profession with the International Integrated Reporting Council.
Connect with Dan on Twitter – @dantisch – or read his corporate blog, Reputation and Reality.
Share your comments or questions about this podcast, or suggestions for future podcasts, in the online FIR Podcast Community on Google+.
You can also send us instant voicemail via SpeakPipe, right from the FIR website. Or, call the Comment Line at +1 415 895 2971 (North America), +44 20 3239 9082 (Europe), or Skype: fircomments. You can tweet us: @FIRpodcast. And you can email us at fircomments@gmail.com. If you wish, you can email your comments, questions and suggestions as MP3 file attachments (max. 3 minutes / 5Mb attachment, please!). We'll be happy to see how we can include your audio contribution in a show.
To receive all For Immediate Release podcasts including the weekly Hobson & Holtz Report, subscribe to the full RSS feed.
This FIR Interview is brought to you with Lawrence Ragan Communications, serving communicators worldwide for 35 years. Information: www.ragan.com.
Podsafe music – On A Podcast Instrumental Mix (MP3, 5Mb) by Cruisebox.
(Cross-posted from For Immediate Release, Shel's and my podcast blog.)