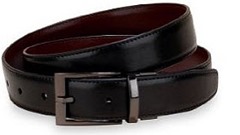 I bought a belt yesterday from Marks and Spencer's online store. A pretty routine activity – online shopping is indeed pretty routine these days – where I chose the item, authorized the payment and will see my purchase sometime today.
It wasn't long after that virtual trip to M&S online that I noticed that nearly all the ads I was seeing on other websites I visited were for belts. Not only belts, but Marks and Spencer belts.
As I remarked on Twitter, "I bought a belt earlier from @marksandspencer online. Now, ads on every website I visits are for belts :)"
It got me thinking, though, about how much Google knows about you from your behaviour online. Not in a sinister or negative way but from a positive and useful perspective where your journeys across the social web in search for things of interest enable Google to serve up content that may match what you're looking for.
In fact, Google knows a huge amount about you from your online activities, not only on the social web. Stuart Henshall posted this thought-provoking graphic that illustrates in a simple example actually what Google does know about you and your online activities.
I tend to see metrics like this in a benign light more than an alarming one, notwithstanding the constant revelations that suggest you can't trust anyone these days.
I suppose it's mainly because I've yet to see or experience anything that makes me believe I cannot trust the likes of Google at all to safeguard my personal information. My conspiracy-theory friends (yes, I do have some of those) think I'm terribly naive.
But if you employ a great deal of common sense in your risk assessment – how you behave online and what you do with the information about you that you can control – you should be able to sleep calmly at night.
All that said, though, how do you feel about what Google knows about you?
(via the Wall Street Journal via Marketing Pilgrim)
Related posts: