After FIR co-host Shel Holtz posted an item to his blog about the future role of activity streams on intranets, Corey Connors got in touch with him to explain his company had been using an activity stream as a key component of the Fehr & Peers intranet home page.
Using wiki Confluence software from Atlassian as the foundation of the intranet for the 250-person engineering firm, Connors has developed an approach that inspires regular visits from staff and keeps them in the loop better than traditional articles ever could.
In this FIR Interview conducted at Fehr & Peers offices in Walnut Creek, California, Shel chats with Connors about the role the activity stream has played and how it works, along with other elements of the home page. They also discuss the social aspects of the intranet, including the individual employee profile (Connors' is pictured below), which includes the activity stream for each individual employee.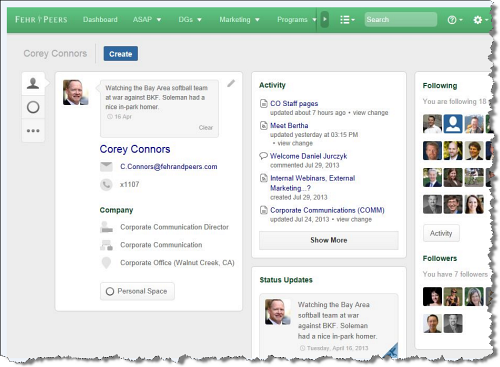 Listen Now:
Get this podcast:
About our Conversation Partner
Corey Connors is Corporate Communications Director and Senior Associate at Fehr & Peers Transportation Consultants, and also serves as the Senior Marketing and Communications Consultant at Left Lane Advisors.
He has 16 years of experience in organizational and marketing communication for small and medium companies. He has unique experience in creating and developing teams of professionals that design strategic business communications: branding, public relations, collateral design/production, internal communications, events, and emerging technologies.
Since 2006, Connors has overseen the evolution of an industry-leading social enterprise strategy, and has successfully positioned himself as a valued consultant to the A/E/C industry in that area.
Before joining Fehr & Peers, he held management positions in water/wastewater engineering consulting, specialized photo/video lighting products, high-tech public relations, and creative marketing.
Connect with Corey on Twitter: @CoreyConnors.
Share your comments or questions about this podcast, or suggestions for future podcasts, in the online FIR Podcast Community on Google+.
You can also send us instant voicemail via SpeakPipe, right from the FIR website. Or, call the Comment Line at +1 415 895 2971 (North America), +44 20 3239 9082 (Europe), or Skype: fircomments. You can tweet us: @FIRpodcast. And you can email us at fircomments@gmail.com. If you wish, you can email your comments, questions and suggestions as MP3 file attachments (max. 3 minutes / 5Mb attachment, please!). We'll be happy to see how we can include your audio contribution in a show.
To receive all For Immediate Release podcasts including the weekly Hobson & Holtz Report, subscribe to the full RSS feed.
This FIR Interview is brought to you with Lawrence Ragan Communications, serving communicators worldwide for 35 years. Information: www.ragan.com.
Podsafe music – On A Podcast Instrumental Mix (MP3, 5Mb) by Cruisebox.
(Cross-posted from For Immediate Release, Shel's and my podcast blog.)