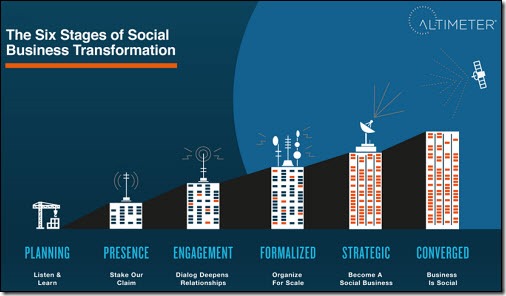 A guest post by Brian Solis.
Businesses are aspiring to find the fountain of truth. Social media professionals believe that transparency and authenticity reveal the way. It does, to some extent.
But it doesn't answer how businesses can earn relevance among a new genre of connected consumers simply by embracing new technologies.
The future of relevance requires "social" to become a philosophy….a way of business and a way of life.
When Charlene Li and I studied the evolution of Social Business, we learned that most were taking a technology based approach to customer engagement. As we're learning, technology is merely an enabler. How we use these new networks is symbolic of how we envision relationships,  engagement, and how we invest in modern support, processes, technologies, and customer and employee centric outcomes over time.
See, the evolution of social business is as much a philosophy as it is a cohesive and intentional movement toward relevance among a new generation of connected customers. Social channels do not represent a means, they are enablers for engagement across every aspect of the business.
This is more than marketing…this is business.
The best organizations out there have discovered that the future of engagement begins with empathy and value creation. To do so takes direction and transformation.
Charlene and I learned in our research that there are 6 stages of transformation. In each step, organizations amend or create policies, procedures and invest in new systems to do more than social…each stage is driven by intention and informed through experience and study.
The end goal for social businesses is to become just that…social. It's part technology and part philosophy. In the sixth stage, a business is social throughout every critical function, inside and outside the organization, beyond social networks.
It now becomes a way of business.
About Brian Solis
Brian Solis is globally recognised as one of the most prominent thought leaders in new media. A digital analyst, sociologist and futurist, Brian has studied and influenced the effects of emerging technology on business, marketing, and culture. He is a principal at Altimeter Group, a research firm in Silicon Valley focused on disruptive technology.
He is the author of What's The Future of Business?, the best-selling business book published in March 2013; his previous works include Engage! and The End of Business As Usual. His blog, BrianSolis.com, is among the world's leading business strategy and marketing resources.
Connect with Brian on Twitter: @briansolis.
(Cross-posted from The B2BHuddle blog. Disclosure: I am co-organizer of B2B Huddle events.)