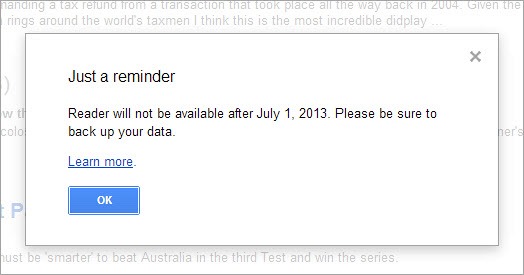 If you use Google Reader, you'll know by now that Google is shutting the service down on July 1. That's tomorrow.
Since its launch in October 2005, Google Reader became a popular choice for many as the preferred method of subscribing to, reading and sharing information via RSS from blogs and websites.
I've had a Google Reader account since its launch, yet I never really used Google Reader. My preference was a desktop reader programme: FeedDemon for Windows. I preferred a tool that ran on the computer I was using and that I could use offline, when there was no network connection – more common than not back in the early days – and that let me do far more than simply subscribe to RSS feeds and read the news. I've been using FeedDemon since 2004.
Until relatively recently, you could synchronize FeedDemon content with your Google Reader account. I saw that as the best of both worlds – your content from your RSS feeds available on your computer whether you had a network connection or not, and also access to that content in the cloud (as we now call it), handy when you were using a computer that didn't have FeedDemon installed.
Over time, Google Reader became a de facto choice – along with other in-the-cloud tools to access, read and share news and information – for increasing numbers of people.
But things move on: new services emerge, we see huge changes in people's behaviours and the devices we use – more mobile and cloud than desktop – and, according to Google, usage of Google Reader has been declining in recent years.
And now what? Google Reader really will shut down on July 1 and if you haven't backed up your data yet and set up another service to use, you're almost out of time.
My recommendation for today – backup your data now; if you haven't got an alternative ready to move to, you can spend some time choosing one without much worry as long as you have your backup done (unless you just want to start from scratch again).
To do that, go to Google Takeout and follow the simple instructions. It shouldn't take you long. (But read this too: Getting ALL your data out of Google Reader.)
As for a replacement for Google Reader, you're spoiled for choice today. Since Google announced last March that the end of Reader is coming, quite a few companies have launched replacements and others with current offerings have stepped up their awareness-raising.
So where should you go? Much depends on what you want from a feed reader. A good start would be comparing what's on offer. Here's a handy chart courtesy of MarketingLand:
Not listed is FeedDemon. I believe it's still a viable option and I plan to continue using it, especially as developer Nick Bradbury released an update a few days ago.
Yet I recognize the changes I see where the convenience of being able to access your subscriptions from any device, any where and at any time is increasingly compelling, and that makes a program that runs only on a Windows computer – and that you have to install on every computer you might want to use it on – look increasingly cumbersome and unattractive.
So I've also been looking at alternatives, not as a migration route from Google Reader but potentially as a complement to FeedDemon. And I've yet to discover one that offers me all that I love about FeedDemon and find most useful.
But looking around is what I've been doing, and I've settled on one attractive and potential choice for me – Digg Reader. It's in beta and certainly far from perfect at the moment. But I like its look-and-feel simplicity on the desktop a great deal, that mirrors the simplicity and clean look of both Google Reader and of FeedDemon. There is an app for iOS; I'm looking forward to the Android version when that comes out.
Screenshots (click or tap for full-size images) –
Digg Reader beta:
Google Reader:
FeedDemon: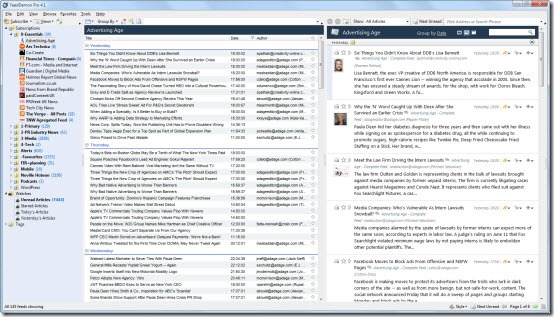 (It's funny, I get a sense of dé jà vu looking at all of these products – they remind me of Bloglines, the very first RSS reader I used.)
Still, I'm sticking with FeedDemon on my Windows machines and I will use a cloud-based reader on my mobile (Android) devices such as Digg Reader (and Flipboard, my current favourite reading and sharing tool on Android).
So, do your Google Reader data backup if you haven't already, and spend a bit of time looking at other options. You have plenty of choice.
Some helpful further reading and reviews:
Last Call: Google Reader Dies Monday, Here Are The Best Alternatives – TechSpot
Top Alternatives to Google Reader Plus Other Discontinued Google Products – Search Engine Journal
Google Reader Is Shutting Down; Here Are the Best Alternatives – Lifehacker
10 Google Reader Alternatives That Will Ease Your RSS Pain – Gizmodo
Google Reader: what are the alternatives? – The Guardian
FeedDemon 4.5 cuts Google Reader ties, Pro version free for all – GHacks
Getting ALL your data out of Google Reader – persistent.info
Related posts: