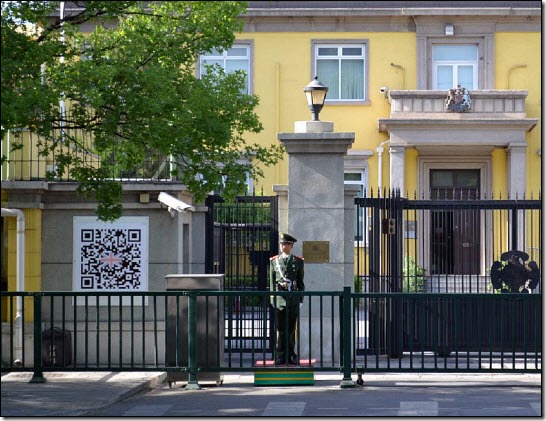 The latest sets of analysed data on current and next internet trends from the peerless Mary Meeker, US venture capitalist and analyst, and her colleague Liang Wu, present a buffet of valuable metrics and compelling insights into the scope of the global online world and those shaping it, evolving it and driving it relentlessly onwards.
Just the summary description is compelling, giving you glimpses of the rich content within:
The latest edition of the annual Internet Trends report finds continued robust online growth. There are now 2.4 billion Internet users around the world, and the total continues to grow apace. Mobile usage is expanding rapidly, while the mobile advertising opportunity remains largely untapped. The report reviews the shifting online landscape, which has become more social and content rich, with expanded use of photos, video and audio. Looking ahead, the report finds early signs of growth for wearable computing devices, like glasses, connected wrist bands and watches – and the emergence of connected cars, drones and other new platforms.
The 117-page PDF document is fascinating reading. It was used by Meeker as part of a presentation she made at the AllThingsD conference in California this week.
While we don't have the benefit of hearing Meeker talk it through – we have only this static content – there are gems of insight here from which to glean knowledge and stimulate your thinking. And you can find others talking about this content, adding their takes to it to enrich the overall picture.
I'm going to do that, too, adding some thoughts to fifteen slices of the content that struck me as especially interesting, and that will impact all we do whether in the workplace or outside of it. While the report is ostensibly about technologies and their evolving state, it's also very much about people, changing behaviours and our own evolutions.
Do read the full report yourself – I've embedded the deck at the end of this post for your convenience.
1. Top Ten Internet Properties
Other than the fact that the vast majority of users of these online properties are outside the US, what struck me about this slide was the scale of Google. Yet Microsoft – top dog for more than 30 years until the latter part of the 00s – is still a force to be reckoned with, even with Facebook snapping at its heels. And look where Yahoo is.
Yet is it really about the numbers? Maybe it's about 'big niches.' Look where Apple is – and they're doing fine.
2. Content Explosion
If you think you're in information overload now, look what's coming. It's becoming almost impossible to manage the sheer tsunami of information each of us is confronted with each day. Documents, pictures, tweets… you name it, we create it, we share it, we consume it – and a lot of the time, we ignore it or even delete it.
This Sargasso Sea of stuff needs filtering so we can give our attention to what matters and, frankly, ignore the rest. The interesting thing is that each one of can decide 'what matters.'
3. Sound Emerging
The evolving landscape of podcasting. Isn't that what published recorded audio is in whatever form, containing whatever content (speech, music) and however long or short? Podcasting never seemed to really take off anywhere except in the US. And except video.
Maybe this represents a renaissance for audio podcasting in many more countries, driven by mobile devices and ease of use. It reminds me of what Audioboo kicked off back in 2009 – easy podcasting from a mobile device, no computer, software, audio-file editing, setting-up, etc, to do. Just speak.
4. Health Outcomes
Wow, this is a startling graph.
It says behaviour is the biggest driver of premature death in the US, with smoking and obesity/inactivity the top two causes by far in that category. Another word to add there surely would be 'lifestyle,' a word I'm hearing frequently these days as a major contributory factor in the increase in people in the UK being diagnosed with cancer.
This is not a nice trend. At all.
Time to get up from the desktop or laptop, leave the tablet behind and step out into the world.
5. Social Media Use
Usage of each of these services grew in 2012 compared to 2011 – except Facebook.
Look at how Google+ leapt forward last year. Instagram, too. And Tumblr from nowhere. Anyone's guess what that landscape will look like in six months from now. Much to influence scale and scope – Yahoo, for instance, and it's portal plans.
6. Sharing Online
Europeans and Americans generally plus people in other developed countries don't share much online compared to people in some emerging countries.
A clear indicator that the world is a far from homogenous place.
7. Mobile Growth
The future clearly is a mobile one. If you still don't have a website that is usable on any mobile device, you will miss the boat.
8. Tablet Growth
They really did come out of nowhere, didn't they? Apple certainly started something in 2010.
Pressure on the traditional computing model especially in software, systems and applications. We all now want the simplicity, ease of use and convenience of a tablet (or large smartphone) for what we do that isn't making phone calls.
9. Car or Computer?
It's both – another place where you can continue your access to, consumption of and sharing of content in whatever form. Smart connected cars with 'synthesized intelligence' controlling communication interaction with the humans in it make it ever more easy (and legal).
For now, though, don't tweet and drive.
10. Finally the Time for QR Codes
QR codes have a lot of detractors. Some criticism is valid when it looks squarely at lack of imagination in how QR codes are used. I've talked about that a lot in this blog, and Shel Holtz and I frequently discuss QR codes on the FIR podcast.
Now we're beginning to see people with smart ideas taking QR codes into the realm of genuine usefulness. The latest I heard about, that Shel and I discussed in our most recent show, is Mercedes-Benz and QR codes on cars. Practical thinking.
11. Genuine Utility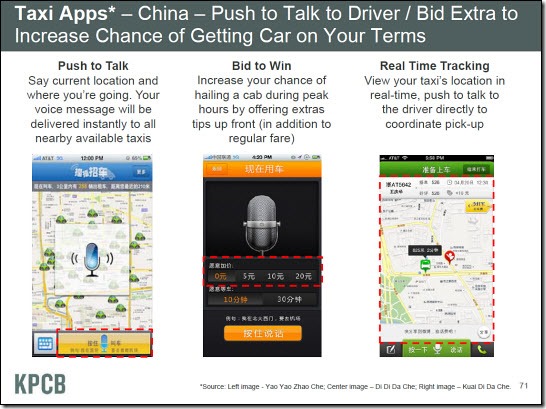 There are plenty of taxi apps already, some that let you call the cab company. This, though, takes it to a more intelligent level, one that lets you connect your need with the broad marketplace, so to speak. A transactional experience, the terms of which you have a big say about.
I bet this evolves rapidly. I'd expect to be able to do this routinely in London and other big cities before 2015.
12. Skills Gaps
A startling metric that five big high-tech employers in the US have combined openings for 10,000 engineers.
This slide is in a section that looks at the make-up of the US population, discussing immigration and skills. A complex topic, one that makes me think that the current debates in the UK about restricting immigration could be pretty self-destructive if it makes would-be immigrants decide not to bring their skills to come and live and work here.
If the barriers to entry – real ones – are too high, they can more easily go to the USA as it looks like there are plenty of job opportunities there.
13. Online Education and MOOCs
Another big topic, one that engages discussion across academia, professional associations and anyone offering learning and education. This chart shows an unmistakable trend to people enrolling on online training courses, offered by traditional educational establishments who not only recognize a need they can satisfy but are also driving the trend.
MOOCs (massive open online course) are an element of this, bringing learning opportunities to anyone with a connection to the internet, anywhere in the world. The scale and scope are huge.
14. Re-Imagining Employment and Much More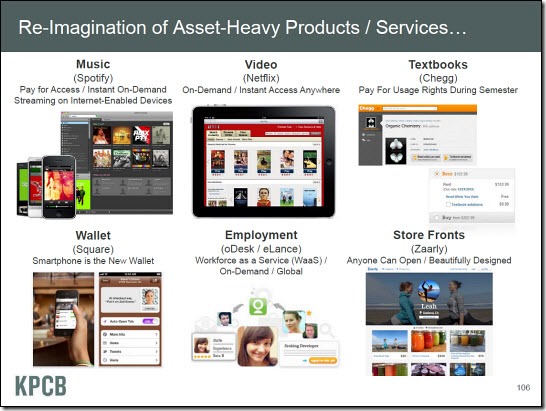 Meeker's deck contains a number of slides on the 'Re-Imagination' topic especially on basic business services. This one looks at asset-heavy products and services and presents a picture we can already see today, one that is so easy to see rapidly evolving, and globally.
Note the acronym in this slide – 'WaaS' for 'workforce as a service.' (Not to be confused with WAAS.) Better get that CV re-imagined.
15. The OS Evolution
And lastly, a terrific slide with such a dramatic view of the lifecycle of computer operating systems.
Just as Windows eclipsed Atari, Amiga, Commodore and just about everyone else, and enjoyed thirty years of dominance and opened the doors to useful technology to everyone, so the baton is passing along in the never-ending hurdle race that is the technology industry.
Apple is in the ascendant now, too, not with an operating system for its venerable desktop and laptop computers, but for its mobile devices – the company evolved when the iPhone came into the world in 2007.
So there is my snapshot look at 15 topics from Mary Meeker's complete deck of Internet Trends 2013. There's much more to review, think about and consider – here's that deck embedded below.
Finally, to the photo at the top of this page. It's the British Embassy building in Beijing, China, and the photo appears on slide 63 in Meeker's deck. Notice the QR code to the left, with the Union flag prominent on it?
If anyone walking past the building scans the code, it will open up the Embassy's Weibo handle in the browser on their mobile device. You can then easily choose to follow the Embassy's weibos, or send them one. (Actually, try scanning the QR code in the photo itself, above. I did that – and it works.)
That's imaginative. Not just the use of the QR code but the idea of doing that.
What's your take? What gets your attention?
Related posts: