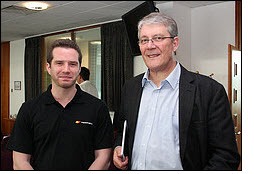 For the past 18 months, WebHostingBuzz has hosted this blog and my other websites on a dedicated server physically located in one of its US datacentres.
A dedicated server is a server that is exclusive to one user: it's not shared with anyone else. So I enjoy the benefits of high performance, security, stability and control from a server that has only my content on it, and no one else uses it.
It's like having my own high-end desktop computer but in the cloud.
Compared to shared hosting – many users on the same server, each with its own partitioned space and its own set of issues to deal with – I find this an ideal solution.
If you read either of WebHostingBuzz' blogs, the US one or the UK one, you'll see that this US/UK company is steadily developing its overall service offering especially this side of the Atlantic.
Last month, WHB announced a new range of dedicated servers located in its new Tier 4 datacentre in the UK (near Nottingham, to be a bit more precise).
I like WHB's confidence in its UK network:
[…] Based in the Midlands, our network is under 2ms from London and Manchester. Redundant private 10Gbps fibre links connect us to all the key London and Manchester POPs. Extensive private peering and connectivity with all major broadband providers mean our network literally flies! Don't just take our word for it, try it out yourself.

Traceroute to: 78.25.201.25
Download test file: http://37.61.233.42/100MB.bin
To mark the availability of its new UK setup, WHB currently has some great hosting deals for dedicated servers at different configurations and pricing options.
If you're thinking about switching hosting services, I think WHB is well worth your time considering and checking out.
And here's possibly a clincher especially if you run WordPress sites at your current host – WHB will handle your migration. They did that for me when I moved and I can tell you I had none of the migraines that would undoubtedly have happened if I'd had to do that myself!
WebHostingBuzz is a good partner. And I've got to know CEO Matt Russell over the past year and a half – that's him in the picture at the top with me at The B2B Huddle event at Oracle UK earlier this month, at which Matt led a discussion session. I've had only a few needs to connect with their tech support team. Very responsive, very quickly. Great experiences.
They're all worth getting to know.
Given my relationship with WHB, you might see this as a "sponsor post." I see it far more as my post (I wrote it, not WHB) about a great partner. You can read the foundation to this and decide how you see it.