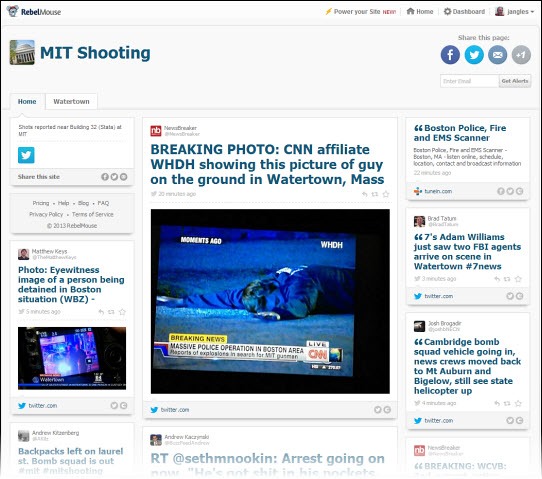 Hot on the heels of the Boston marathon bombings last weekend comes another frightening event in the United States, this time a fatal shooting at the Massachusetts Institute of Technology (MIT) campus in neighbouring Cambridge late on Thursday night US time.
As I write this, it's still very much a breaking news story with sketchy reporting in the mainstream media, certainly here in the UK.
Yet social media is a mass of reporting from individuals on the ground. Citizen journalists all even if some wouldn't choose that label to describe their tweets, instagrams, Facebook statuses and more.
They're just saying what they're seeing and experiencing right there because that's the nature of what many people do these days, especially if you're under 30. And because they can, thanks to being connected online to hundreds and thousands of other people via the social web.
Shoot out outside my room in Watertown. 62 Laurel st. #mit #boston #shooting twitter.com/AKitz/status/3…

— Andrew Kitzenberg (@AKitz) April 19, 2013
Trying to get a good sense of what's actually going on from scanning scores of tweets that fill the Twitter timeline isn't easy. One way you can get a great sense of events in a compelling visual display is with Rebelmouse, a web service that curates content from across the social web and displays it as if it's a digital newspaper.
You can see a great example of the visual power of such curated content for this breaking new story from the screenshot above and on the MIT Shooting page at Rebelmouse itself.
As I noted in a tweet earlier, this is unfiltered social reporting, content that people share in their moment. This is not verified and fact-checked reporting – that's what professional journalists and editors do and tend to be quite good at.
But resources such as Rebelmouse are part of the new media landscape, one that's a chaotic mix of verified reporting such as what you expect from the mainstream media, along with anyone's opinions and comments. And in situations like this, inevitably there will be misinformation and untruth – some no doubt deliberate but the vast majority accidental or due to other people's assumptions and misinterpretations.
Welcome to the acts of freedom of speech. The consequences are what we make of those acts.