Some years ago, Amazon made my blog available as a subscription option for Kindle users. It would cost you 99 pence a month; in return, you'd get all my content delivered to your Kindle device (or Kindle app on your PC, smartphone or tablet) as it was published.
Amazon's now introduced something perhaps more interesting – a 'send to Kindle' button for websites that lets you share specific content to your Kindle rather than get everything including things that might not interest you. And all for free.
The 'send to Kindle' button is very much in alignment with the content-sharing concept that's everywhere on the web these days, notably with the one-click sharing buttons for Twitter, Facebook, Google+, LinkedIn, Digg, Pinterest, and many more, that are common to see on mainstream media and business sites as well as on popular blogs.
Adding the 'send to Kindle' button to your website couldn't be simpler – you just fill out details about your website in a form on a web page, click a button to generate the code, and add that code to your site.
If you publish your content with the WordPress content management system and blog platform, as I do, it's even easier with the send to Kindle plugin for WordPress. I have it installed. One thing I really like about it is that it integrates into the button-sharing functionality of Jetpack, the WordPress 'über plugin,' which then includes the Kindle button in the array of sharing buttons you might use for other services.
So, how does it work? It's really simple in my experience.
Using a recent post on my blog as an example: first, you click or tap the 'send to Kindle' button. If this is the first time you've done that, you'll get pop-up dialogs requesting you to log in to your own Kindle account and choose where to send the content to.
You can also choose how to send it, via wifi or Amazon's Whispernet cellular service (if your Kindle has the 3G option). Once you've made your selection – in this example, I chose to send it to my Kindle device rather than to the Kindle app on a Galaxy Note tablet – you'll get the final dialog showing you the content you're sending.
Click 'Send' and you're done.
The blog post you've shared then shows up in your Kindle like any other content.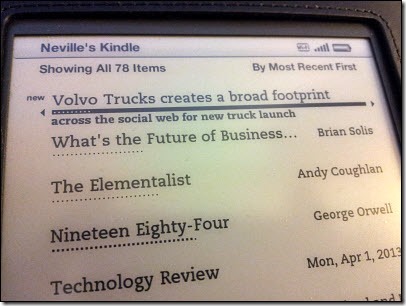 Depending on your Kindle model, you either move the highlight to the title and click the enter key, or tap on the screen, to get at the blog post itself. Then read it at your leisure.
Note the underlining beneath some of the word in the screenshot above. They're links to content on the web. For instance, if you move the highlight to 'Volvo Trucks' and click or tap it, your Kindle will use its built-in browser to open that page, in this example the Wikipedia entry for Volvo Trucks.
Another useful aspect of having this content on your Kindle is that you can make notes and annotations to it, and share them publicly if you wish.
Amazon's 'send to Kindle' button is a useful addition to the many and increasing ways you can curate and offer your content to those who may be interested in consuming it, interacting with it and, perhaps, further sharing it, on and from whatever device they choose.
Related posts: