I must have walked past Ronnie Scott's Jazz Club in London's Soho scores of times over the past decades, yet I've never enjoyed the moments of being inside. Until last Wednesday.
On March 20, the iconic venue was the place where some 200 people in advertising, marketing, PR and the mainstream media came together to hear the CEOs of the three biggest mobile operators in the UK talk about how they see the future of advertising and the role of mobile in that future.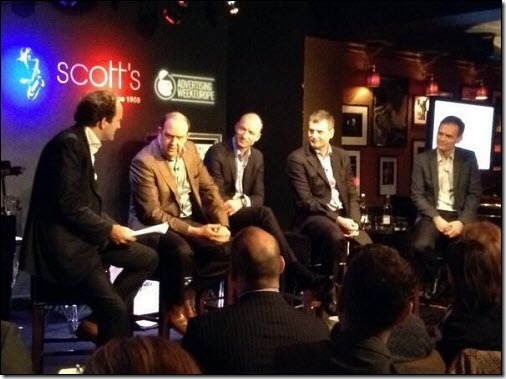 The event was a leadership breakfast panel discussion as part of Advertising Week Europe, the near week-long conference event taking place in London for the first time.
The breakfast session was organized by Weve, a joint venture between the UK's three largest mobile operators: EE, Telefónica UK (owner of O2) and Vodafone UK. Between them, they represent over 80 percent of UK mobile customers.
As you'd expect, all of the discussion was pretty upbeat. I was left in no doubt of the belief, articulated in what those mobile CEOs said – together on stage for the first time – that we're on the cusp of a major transformation of advertising and media and a major opportunity for brands.
Indeed, Weve CEO David Sear was clear regarding the ambitions of the joint venture with its combined customer database of 15 million users and the latest technologies shared by each venture partner.
One of those technologies – 4G – is already being established throughout the UK by EE which launched its 4G/LTE service last October in a dozen towns and cities (EE says it now covers 37 across the UK plus rural Cumbria). The other operators plan to roll out their 4G services during this year after acquiring licenses from the government in the 4G spectrum auction held earlier this year.
4G is unmistakably significant to the plans and intentions spoken about in the panel discussion. As a user of 4G mobile devices – I'm part of an ambassador programme for EE who have provided me with 4G devices at no cost to me – I can attest to the huge benefits I can clearly see from both a user perspective as well as from the advertising, marketing and PR perspectives.
Make no mistake, being able to just get things done quickly when mobile – do your email, post pics to Instagram, update your social status, check-in on Foursquare, watch or upload a video, etc – in a similar speedy way you can (and expect) when on a fast broadband network via fixed or wifi connectivity is an absolute boon to your productivity.
Not only that, you tend to use your fast connectivity more, especially for the kinds of things that really do need a fat and fast broadband connection – streaming video, for example – because you can.
At one point in the discussion, EE CEO Olaf Swantee noted simply that he's seeing a "surge" in the way people use their phones with 4G. I agree – I hear that from everyone I know has has a 4G device.
Some of the snapshot points I noted especially from the panel on Wednesday include these:
There will be a billion NFC-enabled phones worldwide by 2016, said Vodafone's Guy Laurence
"It's not about the technology, it's about the broadest access" (can't remember which CEO said that)
There's huge growth in online shopping with the advent of 4G, said EE's Olaf Swantee
Two mainstream media reports on the event that I've seen are worth a read: Weve's EE, O2 and Vodafone invest 'tens of millions of pounds' to woo brands by MediaWeek; and Vodafone UK CEO Guy Laurence: Join Weve or miss out by MobileNews. And there's some relevant insights in some of the comments to the Twitter hashtags #Weve and #AWEurope.
EE's Swantee wrote an opinion piece in LinkedIn yesterday, talking up Weve, what it's doing and its plans. One thing he said especially caught my attention:
[…] The key is to ensure that mobile advertising draws on the creative opportunities that mobile screens and superfast networks provide and, critically, to ensure it is never intrusive, never unwanted and always relevant.

This exciting new world of personal advertising and mobile instant payments poses big questions around data security and trust. But get that right – which WEVE will – and the opportunities for driving creativity, economic growth, and customer satisfaction are huge.
And there is the bigger challenge for brands, advertisers and mobile commerce enablers (ie, the mobile operators), revolving around the sentiments of "never intrusive, never unwanted and always relevant."
If all of the players are able to see this Brave New World as more than just another advertising medium or marketing channel, and consider genuine consumer empowerment opportunities, then the future Weve envisions can look very rosy indeed.
(Picture of the panel discussion participants by Gabrielle Laine-Peters, used under Creative Commons License.)
[Update March 24:] From my vantage point seated in Ronnie Scott's club, I took quite a few photos of the panel during their discussion, all snapped with the camera on a Samsung Galaxy SIII LTE smartphone from EE.
Thinking of what to do with the pics – they're not really special in terms of sharing them: some are a bit blurred as they were taken at zoom length with not too steady a hand – I thought of making them into a simple audio-visual play using Animoto.
And here it is – a 'mood video' with music of "The Mobile CEOs":
(If you don't see the video embedded above, watch it at YouTube.)