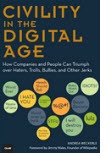 Andrea Weckerle was an FIR Interview guest in January 2010, discussing CiviliNation, the organization she co-founded to promote civil behaviour online.
Now, as part of that effort, she has written Civility in the Digital Age, a review of the issues affecting civility online and proposing a "30-Day Action Plan" for restoring civility to your corner of the digital world
In this FIR podcast, Book Review Editor Bob LeDrew reviews Civility in the Digital Age.
Listen Now:
Get this podcast:
Civility in the Digital Age: How Companies and People Can Triumph over Haters, Trolls, Bullies and Other Jerks, by Andrea Weckerle.
Publisher: Que Publishing
Ebook and paperback (320 pages) editions
Published in the US: February 2013
ISBN: 978-0789750242
Purchase the book online at:
Share your comments or questions about this review, or suggestions for future reviews, in the online FIR communities on Facebook, Friendfeed and Google+.
You can also email us at fircomments@gmail.com; call the Comment Line at +1 415 895 2971 (North America), +44 20 3239 9082 (Europe), or Skype: fircomments; comment at Twitter: twitter.com/FIRpodcast. You can email your comments, questions and suggestions as MP3 file attachments, if you wish (max. 3 minutes / 5Mb attachment, please!). We'll be happy to see how we can include your audio contribution in a show.
To receive all For Immediate Release podcasts including the weekly Hobson & Holtz Report, subscribe to the full RSS feed.
This FIR Book Review is brought to you with Lawrence Ragan Communications, serving communicators worldwide for 35 years. Information: www.ragan.com.
(Cross-posted from For Immediate Release, Shel's and my podcast blog.)