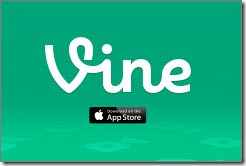 An app that's captured imaginations worldwide in less than a week is Vine, a video-sharing tool launched by Twitter on January 24.
Once you install Vine on your iPhone or iPod Touch – iOS is the only mobile platform it's currently available for – you can then record short video clips, up to six seconds in length, on your device and instantly share them online.
While you need a Twitter account and an iOS device to create and share those video clips, you need neither to view them.
Such openness has already led to two third-party services offering a compelling consumption-use of Vine: VinePeek ("Watch the world in 6 second bites") and VineRoulette ("A full-screen visualization of short videos posted around the world with Vine"). As you read this post, there may be others.
As I'm not an iPhone user (strictly Android), I've not yet used Vine myself. But, it's not hard to see the appeal in creating and sharing short video clips. Nick Cicero says it well:
[…] Similar to Instagram, Vine is accessible. It allows people who may not be familiar with video production at all to play director. The app allows you shoot multiple video clips and edit them together (very short clips of course to fit in 6 seconds). Just as Instagram makes us all think we are amazing photographers, Vine might make us think we have director skills.
While it's easy to see the appeal from an individual user's perspective, there's the bigger picture in considering the role of a tool like Vine in marketing and brand communication.
And quite a few brands are already riding the experimental bandwagon. Nick Cicero lists 15 examples including US media companies NBC News, The Daily Beast, KFox News, CNN en Español; and from the UK, Birmingham City Football Club.
TechCrunch has terrific examples of what big brands like Ritz Crackers, Dove and Trident Gum are experimenting with. Stephen Waddington shares 10 ways brands can use Vine (I especially like "6. Presentations – forget death by PowerPoint, share the highlights from your presentation in six seconds").
So clearly, Vine has already captured many imaginations. I really like KFox News, just look:
This is how we do it. Trying out new @vineapp #kfoxnewsat5 #funtimes #live http://t.co/BEzf9fXL

— KFOX14 News (@KFOX14) January 25, 2013
The Holmes Report offers an assessment of Vine's PR value in the context of PR pitches:
[…] Because of the number of pitches being blasted on a daily basis, most people simply cannot watch every five-minute corporate video link they see on Twitter or that pops into their inbox. Six seconds (or a short series of six-second videos), however, could be a game changer. If that snippet manages to pique someone's attention, it could lead to viewing a longer demo, speaking to the founder, driving traffic to the website– or in other words engagement, which no matter how much the tools change, still seems to be the ultimate the goal.
In the midst of all this, there is a dark cloud in the form of video porn (I saw quite a bit when I checked out Vine for the first time at the weekend). Remember, Vine lets you give free rein to your imagination and there are no controls right now.
While Twitter has taken first steps to lessen the impact of such content, unless and until there's a way of filtering vines – right now, there's not – or some other effective control method, I wonder how comfortable brands will be as their six-second cool clips jostle for position, as it were, with those graphic other clips in the timeline (imagine your embarrassment as you show your clips on a huge screen with VineRoulette at your public conference).
Still, the Wild West never was a calm and ordered place. Meanwhile, Twitter and Vine, hurry up with the Android app!
Related posts: