The broad decline in trust in business and political leadership we've seen over the past few years took a deep dive during the last twelve months as, today, less than a fifth of people believe that a business or government leader will actually tell the truth when confronted with a difficult issue.
That's the stark headline metric in the 2013 Edelman Trust Barometer published yesterday which, according to Edelman CEO Richard Edelman, "demonstrates a serious crisis of confidence in leaders of both business and government." He says:
[…] The research confirms the democratizing trend of recent years – the redistribution of influence from traditional authority figures such as CEOs and prime ministers toward employees, peers and people with credentials, including academics and technical experts. A professor or person like yourself is now trusted nearly twice as much as a chief executive or government official. The hierarchies of old are being replaced by more trusted peer-to-peer, horizontal networks of trust.
Edelman's report suggests that trust in institutions – companies, government, mainstream media, NGOs – is on the rise in many of the 26 countries in which Edelman carried out its research, compared to a year ago. But it's diminishing leadership trust in general that is the major concern. These are topics that have been talked about by many in the communications profession in recent years, especially when Edelman's trust report comes out each year (as it has for each of the past ten years).
Now, though, Edelman's latest research adds a significant layer of credibility to the broad premise that the system really is broken and does need fixing.
The 2013 Trust Barometer offers plenty of unavoidable evidence of such breakage, identifying a number of areas that are clarion calls to action in organizations across all business and political boundaries.
For example, it's unlikely to surprise anyone that banks and financial services remain the least trusted sectors, particularly trust in banks in Germany (23 percent), UK (22 percent), Spain (19 percent) and Ireland (11 percent). After all, there are plenty of tarnished financial institutions whose names readily trip off the tongue: Barclays, Lehmann, Goldman Sachs, RBS, UBS…
The majority belief – 59 percent – underpinning such widespread lack of trust is that the causes of the banking scandals we've seen on TV news day after day are internal and within the control of each firm, with the single largest belief held by 25 percent of those surveyed believing the causes to be corporate corruption.
It seems clear to me that loss of trust in these institutions has come about largely by perceived bad behaviour (actual bad behaviour in many cases) of leaders and other employees of influence and seniority in those institutions. Their behaviours, and the cultures that have been sustained by them, have sullied the reputations of their firms.
Edelman's report shows that trust in banks and financial services reached their lowest point in the US in 2011 and in the UK, France and Germany in 2012. With trust in two-thirds of the markets below 50 percent, trust in banks, globally, is now 11 points lower than it was in 2008, the year of the global financial meltdown.
Flipping the sector perspective, there are many positive aspects to note in this report, such as:
Technology (77 percent) and automotive (69 percent) were again the two most trusted industry sectors.
NGOs remain the most trusted institution posting trust levels above 50 percent in 23 of 26 countries – four of the five top markets are in Asia (China 81 percent, Malaysia 76 percent, Hong Kong 76 percent, Singapore 75 percent).
Further dimensionalization helped media continue its rise in trust that began in 2010. Among the general population, mainstream media and online search (both at 58 percent) are the most trusted sources of information.
More than half in emerging markets trust all forms of media while developed markets have a high variance in trust levels across the various media types.  When looking at social media, emerging markets (58 percent) are more than twice as trusting as developed (26 percent).
Germany saw the most significant increases in trust across all institutions: NGOs up 16 points, media up 19 points, business up 14 points and government up 15 points. Argentina experienced the greatest decline in trust among all institutions.
There is much rich reading to absorb in this 2013 Trust Barometer, all of it leading to a conclusion that is very much a clear call to action:
[…] Business must also change the way it engages stakeholders. We are in an era of skepticism; people need to see or hear something three to five times in different places before believing it, and learn equally from traditional and social channels. The traditional pyramid of authority, with elites driving communications top down to mass audiences, is now joined by an inverted pyramid of community – employees, action consumers and social activists involved in real-time, horizontal, constant peer-to-peer dialogue resulting in a new diamond of influence. Smart institutions will use vertical one-way communications while continually participating in the ongoing horizontal conversation.
Edelman call this approach "Inclusive Management", illustrated by "The Diamond of Influence."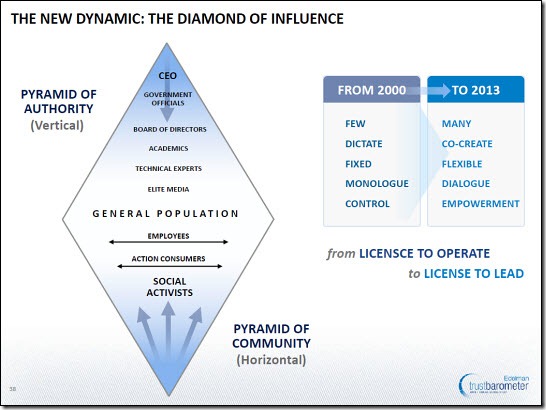 I like the idea of a "license to lead" as a label for leader behaviour, evolved from the simpler "license to operate." The former is much more attuned to contemporary behaviour and expectations where the participatory and collaborative nature of leadership derives from the consent of those being led.
It's a big concept – and very much an important element in the broad concept of a social business and the interlinked disciplines of leadership and communication as suggested in the new communications framework proposed by the Arthur W. Page Society last year.
Plenty to think about. More importantly, do something about.
Discover more from the 2013 Edelman Trust Barometer.
Related posts: