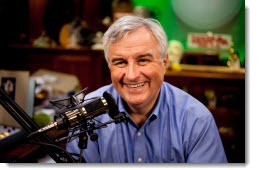 A podcast I've been listening to for the past five years, on and off, is This Week in Tech, started and hosted by American technology broadcaster and entrepreneur Leo Laporte.
Better known by its acronym TWiT, each episode is typically 90 minutes or longer – two hours isn't unusual – and is offered in audio and video formats.
Without doubt, Laporte is one of the pioneers of new media, taking the original concept of audio podcasting as a means of individual and personal expression, with a zero barrier to entry, and converting it over time into a viable business. That business today comprises over 25 individual shows created and broadcast over the internet from a purpose-built studio facility in northern California that is projected to generate $7 million in revenue in 2013.
That's just one fact that comes from an hour-long keynote speech Laporte delivered to the New Media Expo in Las Vegas last month – relevant but by far not the most important fact.
As a podcaster myself since 2005, I was interested in some of the other metrics Laporte mentioned, such as the number of podcasts you can find today in Apple's iTunes store – 250,000 in 40 languages from podcasters in 155 countries.
That's some growth in the eight short years since podcasting emerged.
A few of the points Laporte emphasised in his speech resonate strongly for me. I think the most significant one is the idea that creating a podcast is about building community not simply creating an audience.  Audience is about numbers, Laporte says: an old-media metric that's about satisfying advertising measurement (how many eyeballs see your message, that kind of thing).
He argues strongly that podcasting is about conversation, a point with which I wholeheartedly agree. It's about engagement with and within the community rather than delivering monologues, which is what traditional broadcasting tends to be and the advertising that goes with it.
And Laporte talks about how advertising can engage a community and get its attention if it recognizes that engaged people who see you the advertiser as an authentic 'conversation partner' are far more valuable than the traditional, passive content consumers – who will skip your ads if they get a chance because there is no engagement (nor, often, neither sincerity or even relevance) at all.
In a small way, this is exactly what my podcasting partner Shel Holtz and I have with For Immediate Release, the podcast series we created, and specifically our weekly show, The Hobson and Holtz Report, that we started in January 2005.
We have community, not an audience – a vibrant one today that extends across the social web, on Facebook, Friendfeed, Google+ and Twitter. Part of that community are other voices in every show in the shape of two regular correspondents: Dan York and Michael Netzley. We have sponsors whose voices also are part of the conversation each week – Ragan Communications and CustomScoop – not simply taking a 30- or 60-second spot to pimp themselves. The community, our listeners, like it – and I bet their unprompted recall of those sponsors' conversational messages would be 90-plus percent if they were asked.
Points to ponder. Hear Laporte expand on those, and more, in the recording of his NMX keynote, embedded below. An hour of your time well invested.
Related posts: