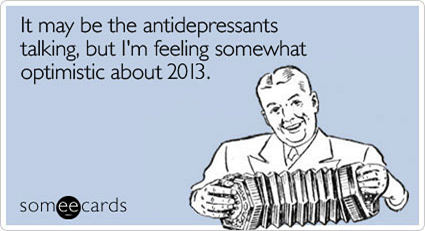 A New Year has dawned and even though full-ahead work isn't what everyone is doing yet – wait until next week for that – our thoughts clearly are tuning in to what the coming weeks and months hold and what we need to do.
As surely as the New Year arrived just after midnight on December 31, so it is that your email inbox, Twitter stream, Facebook feed and Google+ stream are already filling up with helpful and earnest suggestions, instructions and how-tos about the business, communication and technology trends you must pay attention to in 2013.
I've read through quite a number of such missives. While undoubtedly helpful, far too many are focused only on craft activities like social media and getting more likes to your Facebook campaigns. Others are a bit generic and stray into politics and economics where a crystal ball will probably work well.
So what ought the communicator (and marketer) also be thinking about at the moment?
It's worth casting your mind over the bigger picture and consider some issues that will unquestionably impact organizations in the coming year, requiring our focused attention and skills to figure out how to do our best for our employer or our client.
Of the many tips and tricks I've read during this Christmas/New Year break, an article in PR Week's US edition by  Paul Gennaro caught my keen attention as it succinctly highlights what I think are three key business issues that will influence and underpin much of what we tactically do in our campaigns and other business-supporting activities and programmes in 2013:
1. Trust
Gennaro thinks that the overall results of the 2013 Edelman Trust Barometer might level off after alarming declines last year for trust in government, business and NGOs. I hope he's right although I don't have a great deal of confidence that trust in corporate leaders (largely the occupants of the C-Suite) and politicians will show such an improvement – if a decline in negativity can credibly be seen as any kind of improvement. We'll know for sure when Edelman publishes the results of its latest annual global survey in a few weeks.
2. Corporate Social Responsibility
CSR as a brand differentiator is an intriguing concept. Yet I think it's key to consumers' perceptions of trust in a brand and the reputation of an organization – two facets of people's behaviour shifts that manifest themselves in how we tune out marketing and tune in to brands that represent shared values. Isn't it now clear that brand building must focus on authentic relationships and reputation? What else matters?
3. Social Business
Inter-connected with trust and CSR, the way in which a business conducts itself and behaves in relation to the marketplace and its own workplace is the core of it becoming a social business. Gennaro mentions the Arthur W. Page Society's New Model for Corporate Communications, a framework for how communication leaders can define and activate their companies' unique corporate character and build "advocacy at scale." It's something I believe is the key to what being a social business really is about (and a topic on which I gave a keynote presentation at Arthur W. Page's global social media summit in October 2012).
So these are three business issues that I think are worthy of our laser-focused attention in the immediate weeks ahead and no doubt during the whole of 2013. What others would you add to an "essentials" list?
Happy New Year!
Related posts: