I'm experimenting with getting to know Spundge, a content curation and publishing platform (which Craig Silverman talks about at length in the latest FIR Interview podcast I posted yesterday).
Spundge is a lot about finding and filtering relevant content that matches topics you're interested in. You do this through creating a Spundge Notebook, a sort of virtual filing cabinet, that is where the content found by Spundge's algorithms and APIs in response to the key words and phrases you've defined is presented for you to determine what you do with it.
To help me learn how Spundge's curation process works, I created a Notebook called Leveson and What's Next, on mainstream and social media coverage of the Leveson Inquiry and all the hoo-ha and kerfuffle that began the moment the report and recommendations were published on November 29.
If you're not sure what the Leveson Inquiry is about, its Wikipedia entry is a good place to gain a concise overview:
The Leveson Inquiry is a judicial public inquiry into the culture, practices and ethics of the British press following the News International phone hacking scandal, chaired by Lord Justice Leveson, who was appointed in July 2011. A series of public hearings were held throughout 2011 and 2012. The Inquiry published the Leveson Report in November 2012, which reviewed the general culture and ethics of the British media, and made recommendations for a new, independent, body to replace the existing Press Complaints Commission, which would be recognised by the state through new laws. Part 2 of the inquiry has been deferred until after criminal prosecutions regarding events at the News of the World.
Among all the news and opinion items I've seen so far,  two that are very related struck me as highlighting the scale of the task facing everyone in this country, not the least those in positions of power who will make decisions about press regulation on behalf of all of us.
If you've been following reports and opinion, you'll know there's huge polarization. That's no better illustrated than looking at online petitions that have been set up, one pro Leveson's recommendations, others anti.
So far, the pro-Leveson petition set up by the Hacked Off pressure group has gathered over 140,000 signatures.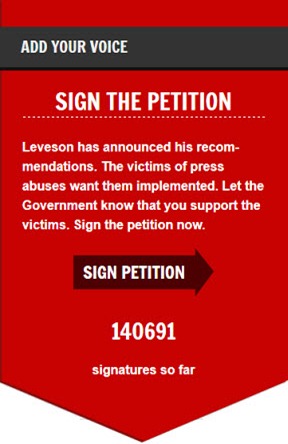 (As an aside, I signed Hacked Off's petition last week when it had less than 14,000 signatures, just 10 percent of what it has attracted in less than a week as I write these words.)
In contrast, anti-Leveson petitions set up on the government's e-petitions website have managed only tens of signatures let alone hundreds or even thousands, with the most popular one attracting just over one thousand.
It looks quite clear that the ayes want it. Whether they'll have it remains to be seen. What's equally clear is that the clock's ticking on self-regulation.
I'll continue to curate content on this in Spundge. And, as Spundge is a collaborative platform, if you'd like to participate in this with me, you'll be welcome. Good on-the-job learning.
Let me know if you would like to.
Related posts: