The winter 2012 edition of Europe's most influential and popular tech/startup/venture-capitalist event known as Le Web begins in Paris tomorrow December 4.
According to Loic Le Meur, LeWeb founder, more than 3,000 people from around the world are expected to be there for the duration of the conference and networking extravaganza which runs until December 6.
The theme is "The Internet of Things" which the event intends to explore from all angles.
We will see the hottest new technologies, learn how entrepreneurs are adapting and talk to industry visionaries about whether or not they think this next version of the Internet is truly the second Renaissance.
As always with LeWeb, the speaker list and list of official bloggers are impressive, all of which surely adds promise to do justice to the strong desire and intent to explore the Internet of Things.
If you can't be there physically, you can be virtually via the live video streams at the LeWeb channel on YouTube. Two streams will be available to access, free of charge, both offering high-definition video.
Following the experimentation with Google+ Hangouts on Air we saw at LeWeb London earlier this year, that live and recorded video tool will play a big role at LeWeb Paris.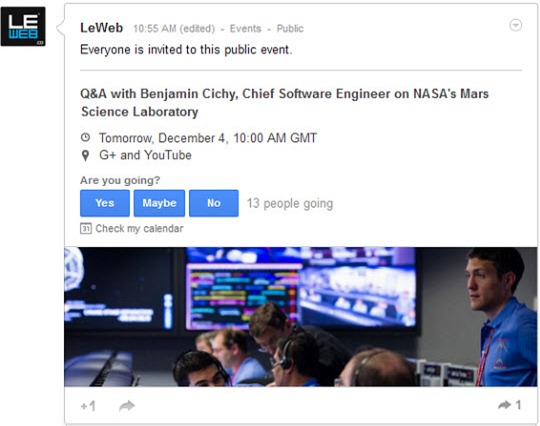 The published schedule currently shows eight planned live Hangouts on Air with speakers during the event, in addition to Hangouts that have already taken place prior to the event and whose recordings are on LeWeb's YouTube channel.
Not only that, there are plans to include participants from around the world, just as LeWeb did in London, like the ones I took part in. I'm in the programme to be "parachuted-in" virtually from the UK as part of Hangouts for this event although I don't yet know which ones or when.
Stay tuned, as they say.
Related post: