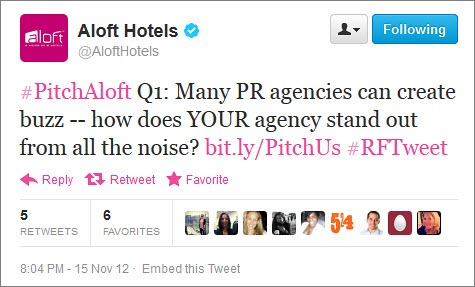 If you're in the PR agency business, undoubtedly you've participated in a good share of pitches for new business or even to retain existing business.
Many people see it as an imperfect process, often marred by the high cost of pitching, perceived and real, the huge amount of time involved, and some stupid practices.
Here's a novel idea (although not a new concept) – pitch via Twitter.
Hotel chain Aloft, a subsidiary of Starwood, is doing precisely that in the US to seek a new PR agency, opening a process on Twitter where agencies can pitch their story 140 characters at a time in response to questions from Aloft.
AdAge reports that the hotel firm is running this public pitch contest on Twitter over the next three weeks.
[…] Paige Francis, VP-marketing for Aloft, Element and Four Points, said the idea to solicit agencies on Twitter was borne out of a desire to learn about up-and-coming and undiscovered shops. Of course, it also creates the potential for a large number of agencies seeking a fresh account to throw their hats in the ring. But Ms. Francis didn't see that as an issue and noted that being inundated with responses would be a "good problem to have."

[…] Conducting the review process over the social network is also a way for Aloft to beef up its Twitter following (which had grown from 850 followers last night to 900 followers as of this morning) and rack up some free impressions.

Those agencies who intend to pitch the business are given instructions in a link inside Aloft's tweets to first follow it on Twitter and then include the hashtag #PitchAloft in their answers to questions.
You can see what some of the responses are like from this embedded tweet stream:
#PitchAloft Q1: Many PR agencies can create buzz — how does YOUR agency stand out from all the noise? http://t.co/Fd688R3a #RFTweet

— Aloft Hotels (@AloftHotels) November 15, 2012
What I also like about the idea is that it's far more genuine than the traditional pitching process, in terms of the interactions between people. If you use social tools and channels to connect with other people, it's not uncommon at all for such online connectivity to be a positive and highly effective precursor to actual engagement by the time you meet face to face.
So will the agency that impresses Aloft the most in their tweeted responses actually get hired? Well, no, they say:
[…] The review process won't be conducted totally over the web, however. Following the "RFTweet" process, Aloft's marketing team will meet a select group of agencies using a more traditional request-for-proposal method. "There's something to be said for good old-fashioned chemistry even in this digital age," Ms. Francis said.
Amen to that.
Incidentally, Aloft is no stranger to novel ideas: I remember when they experimented with a virtual hotel in Second Life back in 2006.