The news on October 22 that ReadWriteWeb – one of the most credible tech news and information resources on the social web – has relaunched as ReadWrite is noteworthy in marking a milestone in how professional 'mainstream' blogs offer their content.
The relaunch follows the departure of RWW founder Richard McManus in mid October.
As ReadWrite, the relaunched publication hired ex-Forbes and -Newsweek journalist Daniel Lyons as managing editor. He's also known as the Fake Steve Jobs.
What's really noteworthy, in my view, is the way in which the content created by the journalists and writers is published. In other words, look at the content, not the platform as it works no matter the platform.
We're not talking about print, or words and pictures designed for websites that kind of work on mobile devices like tablets and smartphones.
We're talking about a focus shift to one content across many platforms, in a way that you think not of the platform (probably not at all), just the content that gives you a frictionless experience whatever the platform.
Check RW's superbly-made launch video to see what all that means. (Caution: it has a terrific soundtrack but it's loud and with great bass from the very start.)
(If you don't see the video embedded above, watch it at YouTube.)
RW describes its approach thus:
ReadWrite offers a seamless content experience across desktop, mobile and tablet platforms, delivering smart, relevant stories when you want, where you want. Redesigned with a tablet-first approach, it boasts modern responsive design and a better content experience with deeper social integration and improved navigation.
Bold text my emphasis. They use an interesting phrase: "responsive design" – more on that below. And note they talk about a "tablet-first approach" – similar words to those spoken by Quartz, the digital-only business magazine launched in September (and of which I'm a huge fan):
[…] As we build Quartz, we are focused on the touchscreen and mobile devices that increasingly dominate our lives. Our design began with the iPad foremost in mind, and we modified it from there to suit smartphones and, finally, personal computers. Your experience with Quartz should befit the hardware you visit us with and shift as seamlessly as you do from phone to tablet to laptop and back again. Call us a website or, if you like, a web app: Quartz combines the benefits of the free and open Web with the elegance of an application.
Note the phrase "we are focused on the touchscreen and mobile devices."
And then, news yesterday that the BBC started enabling its new mobile website that serves content best suited to the type of phone a visitor is using.
You might argue that the BBC website is not the same thing as a site designed specifically for content no matter the platform. Yet I'd argue that it's a highly relevant development as it intends to offer a genuine "frictionless experience" of content consumption where you think of the content rather than wondering if your platform is the right one for the content: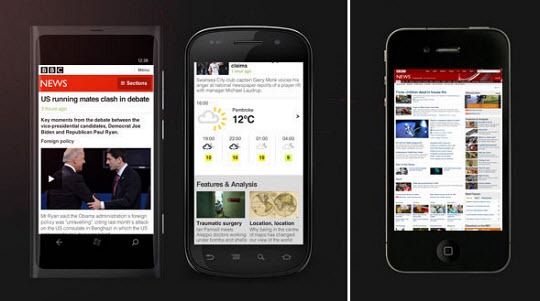 […] This is the latest stage in the ongoing work by our News product team on responsive design – a way of presenting our content to you in the most suitable way by detecting the type of device you are using and displaying the format best adapted for it. We are doing similar work to optimise the site for tablet users too.

The number of people coming to BBC News on mobile continues to grow. In an average week, 13.3m users worldwide use their mobile or tablet to visit the BBC News site and apps – around one-third of total users to BBC News Online.
There's more going on in the mainstream media, as Journalism.co.uk reports:
[…On October 22], Time.com announced its shift to responsive design. Other news sites, including Channel 4 News, have made the move to responsive design and last week the Guardian unveiled its responsive site which it said is a "work-in-progress".
Evolution in progress.
How about your website or blog? Are you as frictionless as people would like their experience with your content to be?
Related posts: