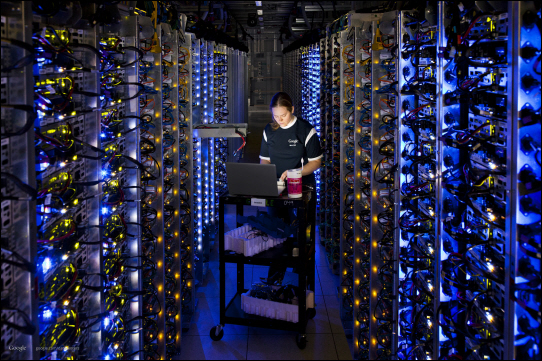 It's a picture of Google that you wouldn't possibly imagine when you think of the search engine giant that, increasingly, is directly involved in many other services. Multiple pictures, in fact, that tell a story far more valuable than 1,000 words.
Stunning photographs accompany a great report in the Daily Mail that takes a look inside some of the huge server farms Google runs around the world that enable you and me to do searches, get our email, watch YouTube videos, and much more.
The photos are taken from Where the internet lives," a photo-gallery site that displays all of these gorgeous pics and more.
With hundreds of thousands of servers, colourful cables and even bicycles so engineers can get around quickly, they range from a converted paper mill in Finland to custom made server farms in Iowa. The site features photos from inside some of the eight data centers that Google Inc. already has running in the U.S., Finland and Belgium. Google is also building data centers in Hong Kong, Taiwan, Singapore and Chile. Virtual tours of a North Carolina data center also will be available through Google's 'Street View' service, which is usually used to view photos of neighborhoods around the world. The photographic access to Google's data centers coincides with the publication of a Wired magazine article about how the company builds and operates them.
Simple explanations in a UK national newspaper for anyone to understand. Great PR, Google.
(And here's the geeky original in Wired: http://www.wired.com/wiredenterprise/2012/10/ff-inside-google-data-center/all/)
Embedded Link
Inside the internet: Google allows first ever look at the eight vast data centres that power the online world
With hundreds of thousands of servers at each location, Google's vast server farms are housed in buildings ranging from a converted paper mill in Finland to cavernous warehouses in Iowa.
Google+: View post on Google+
Post imported by Google+Blog. Created By Daniel Treadwell.