Over the next four weeks or so, I have the good fortune to be involved with some great people and organizations in discussing a wide range of topics related to that intersection of business, communication and technology that is so important to every enterprise.
If you would like to be part of some great conversations, or simply would like to listen to what others have to say, I'd welcome seeing you at any or all of these events. Here are six, in chronological order:
TAGtribe Forum – "Your Connected Customer & Company": London, September 5, 2012. Fellow speaker JP Rangaswami and I will be talking for about 15 minutes with some thoughts and ideas each of us has relevant to the event title, in a fast Q&A conversation moderated by Andy Bargery. Then it's a free-for-all discussion with everyone who's there. Sign up.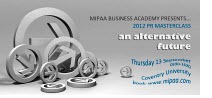 MIPAA Business Academy presents: 2012 PR Masterclass – An Alternative Future: Coventry, September 13, 2012. I'm not speaking at this event, just there as an eager participant. I'm including it here as organizers Al Clarke and Heather Yaxley have assembled an excellent roster of speakers from across the motor industry and beyond who will take "a strategic look ahead at bigger picture trends affecting motor industry PR." This one-day event is one not to miss. Sign up.
Digital Ireland Forum – The Age of the Connected Consumer: Dublin, September 21, 2012. "At The Digital Ireland Forum on September 21, our leading keynote speakers will be joined by Ireland's digital leaders, who will take part in mediated panel discussions, before an invited audience of c-suite executives and senior policy makers, on how the demands and needs of this new consumer is transforming how we do business, how we transact, even how governments interact with their citizens."
I'm delivering a keynote speech after author Ben Hammersley delivers his, and then engaging in debate with a panel of Irish business leaders. An idea of what I will be talking about is in this interview Silicon Republic did with me for the Irish Independent newspaper last month. Sign up.
The 5th Dell B2B Social Media Huddle: London, September 24, 2012. Jointly organized by Kerry Bridge and I, the Huddle is an informal one-day event that brings together senior communicators and marketing professionals to exchange and share their experiences in social media in B2B. We've been doing this since 2009.
"Huddlers choose whether to just come and listen to what others have to say, or stand up and share their own thinking during one of the open unconference sessions. The day concludes with further networking opportunities at the informal tweetup. The expected outcome for you is new or renewed connections and actionable insights that you can apply in your business."
Dell has sponsored every Huddle to date; this one is also supported by Microsoft, and forms part of the week-long Social Media Week London. Sign up.
Digital Surrey – Getting An Education: Farnham, September 27, 2012. I'm leading an informal panel discussion with fellow panelists Jonathan Hill, Paul Marden and Sheila Parry for a lively look at social business in the contemporary landscape.
"Is there no room any more for experimentation, for emotional engagement online, for simply joining the conversation without an ROI in front of your mind?" Sign up.
NEMO's New Media, Modern Democracy launch conference: Helsingborg, Sweden, October 5, 2012. Organized by Philip Young, project leader for NEMO at Campus Helsingborg, Lund University (and someone who's no stranger to innovation in communication education). "NEMO's Launch Conference will showcase our latest research and bring alive some of the most exciting challenges facing communicators today. Discover hi-tech innovations that change the way we live and take part in thought-provoking debate on pressing ethical and social issues that affect every citizen."
I'm presenting a keynote on trends and developments of direct relevance and interest to business communicators (currently titled rather boldly as "The Future of PR"), as well as leading a workshop on "exploring the challenges Wikipedia brings for communicators." Sign up.
See you at one or the other?