This concise comment on Microsoft's Office Preview support forum says it all about the frustrations that many people including me have experienced in trying to install the free trial version of Office Customer Preview:
Hey Microsoft, make it simple yo……
Announced yesterday, Microsoft is making the trial universally available to anyone who cares to try it out and who has a suitable PC, and you're in a country listed on your account page. Basically, any modern computer running Windows 7 or Windows 8 should be fine, even a netbook (details). Note you'll need a Windows 7 edition at minimum to install this – neither Vista nor XP are supported.
It certainly looks the business with its three different editions:
Office 365 Home Premium – designed for families and consumers. This service also includes an additional 20 GB of SkyDrive storage and 60 minutes of Skype world minutes per month.
Office 365 Small Business Premium – designed for small businesses. This service also includes business-grade email, shared calendars, website tools and HD webconferencing.
Office 365 ProPlus – designed for enterprise customers who want advanced business capabilities and the flexibility to deploy and manage in the cloud.
CNET has a great hands-on review: Microsoft Office 2013: Everything you need to know (FAQ) (and there are many more already).
Great, I'm keen to kick the tyres, etc, so I logged in to my Windows Live account at the preview site last night and asked it to install away.
The installation was almost complete, according to the progress dialog, when up popped a window telling me I no longer had the required internet connection.
But I did! I was online. Clicking 'Close' terminated the installation.
I tried again. This time, a popup to tell me that "some sort of failure" had occurred.
Really helpful, Microsoft, thanks. So I went to the control panel and did a repair. Then I tried again. Repeat all of the above.
This morning I tried one more time. This time, a popup to tell me it couldn't start the program.
Luckily I have a lot of patience and was learning some interesting things about the new Office install look-and-feel and the informal wording of error messages.
But I decided to uninstall everything via the control panel and try again clean, as it were. Another error popup disabused me of that notion with a warning that I'd need to repair my existing Office 2010 installation if I did that.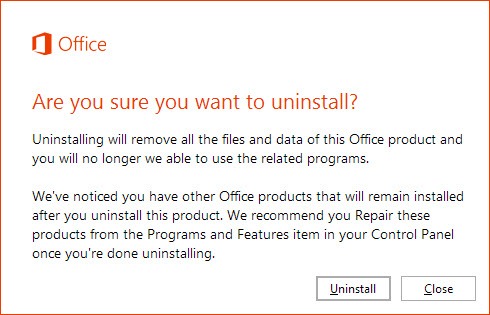 So I didn't do that! Then I got a normal-looking popup, ie, not the snappy new look of the new Office, telling me that "you don't have a modern Windows operating system. You need Windows 7 or newer."
Well, this Dell desktop I'm writing these words on is running Windows 7 Professional SP1.
I know this is beta software so I expect it to be less than 100% polished. But I don't expect to run into this car crash trying to get it installed. Nor do many others if the forum is anything to go by.
As someone said:
Hey Microsoft, make it simple yo……