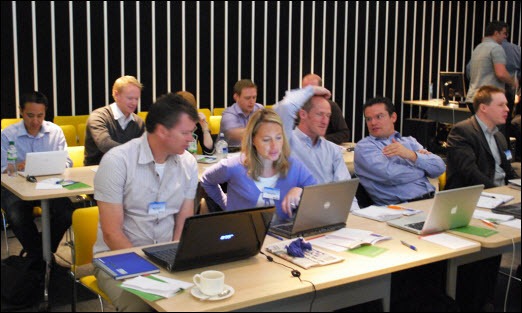 Mark your calendar for the next Dell B2B Social Media Huddle that will take place in London on September 24, 2012 – the first day of the second Social Media Week London this year.
For this fifth Huddle, we're back at Microsoft's offices in Victoria, London SW1, from which the image above comes (snapped by Mel Carson during the second Huddle in May 2010).
The Dell B2B Social Media Huddle is an informal one-day event that brings together senior communicators and marketing professionals to exchange and share experiences on "(social) business to business." It's characterized by its pragmatic approach to enabling everyone to choose whether to just come and listen to what others have to say, or stand up and talk themselves during one of the open unconference sessions. The day concludes with the social engagement of an informal tweetup.
So Kerry Bridge and I, together with Simon Hughes at Microsoft, have our planning hats on to put together a compelling experience that will be worth your while investing your time in. The programme will follow the format that's proved popular in each of the previous Huddles:
Morning: keynote presentations
Afternoon: unconference sessions
Evening: tweetup
Each of the keynote presentations will be live video streamed; the audio will be recorded for post-event FIR Speakers & Speeches podcasts.
We're aiming to make the fifth Dell B2B Social Media Huddle the most engaging of all, especially as it forms part of Social Media Week London. If you have a suggestion for a speaker and/or a topic, do let us know. Likewise if you already have some ideas on leading an unconference session.
Join the conversation with over 150 members of the B2B Social Media Huddle group on LinkedIn.
We'll be announcing more, including keynote speakers and topics, in the coming weeks. Meanwhile, note the date – Monday, September 24, 2012.