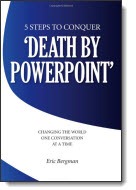 If you hope to communicate effectively with any audience, the best thing you can change about your presentation is to never, ever, use a slideware program to develop your presentation content, says Eric Bergman.
No PowerPoint. No Keynote. No Prezi. No SlideRocket. None.
The author of Five Steps to Conquer 'Death by PowerPoint', published in May 2012, Bergman is passionate in his belief that the procedures we habitually use during presentations are dysfunctional and badly need changing.
If you want to be more effective, he says, you must separate the spoken word and the written word – regardless of whether you're the sender or the receiver in the communication process
In this FIR Interview, co-host Neville Hobson met with Bergman during his visit to London in July 2012. In a wide-ranging conversation, Eric touches on the five steps in the book's title, and explains how his book will help anyone make better use of their time in preparation, without using PowerPoint to do that; and make better use of everyone's time when you get together.
He says, "When it comes to expectations for presentations, today's audiences should be easy to please. First and foremost, they don't want to be bored. They don't like to waste their time. I have yet to meet anyone who attends a presentation thinking: 'I wonder what colours the presenter will use,' or 'I hope the slides are engaging'."
As the conversation concludes, Eric makes note of two people who he believes are highly-effective presenters, and offers some insightful suggestions to listeners that they can think about in their quest to be effective as presenters.
FIR listeners can download a free copy of Present With Ease, a workbook that complements Five Steps to Conquer 'Death by PowerPoint' , designed to help presenters develop content first, then slides, in order to actively engage and win over their audiences.
Get this podcast:
About our Conversation Partner
Eric Bergman is passionate about helping his clients communicate effectively.
He has been a public relations practitioner for more than 30 years and has provided presentation skills and media training to clients in North America, South America, Europe and Asia for more than 20 years.
His workshops, seminars and one-on-one coaching have improved the communication skills of thousands of professionals, managers, salespeople, politicians and senior executives. He also consults on strategy, positioning, issues management and message content for presentations, and in advance of exchanges with journalists.
Eric holds a bachelor of professional arts in communication studies from Athabasca University and a two-year diploma in advertising and public relations from Grant MacEwan College in Edmonton, Alberta, Canada. He is an accredited business communicator, an accredited public relations practitioner and a master communicator. He is also a fifth-degree black belt in Wado-Kai karate.
Connect with Eric Bergman on Twitter: @5stepstoconquer.

Share your comments or questions about this podcast, or suggestions for future interviews, in the FIR FriendFeed Room. You can also email us at fircomments@gmail.com; call the Comment Line at +1 206 338 7960 (North America), +44 20 3239 9082 (Europe), or Skype: fircomments; comment at Twitter: twitter.com/FIR. You can email your comments, questions and suggestions as MP3 file attachments, if you wish (max. 3 minutes / 5Mb attachment, please!). We'll be happy to see how we can include your audio contribution in a show.
To receive all For Immediate Release podcasts including the weekly Hobson & Holtz Report, subscribe to the full RSS feed.
This FIR Interview is brought to you with Lawrence Ragan Communications, serving communicators worldwide for 35 years. Information: www.ragan.com.
Podsafe music – On A Podcast Instrumental Mix (MP3, 5Mb) by Cruisebox.
(Cross-posted from For Immediate Release, Shel's and my podcast blog.)