When you look at big corporations and who uses social media well as an integral element in brand and product marketing, one of the companies that stands out is Ford.
The US-headquartered vehicle maker has a well-established and credible social media presence and embraces literally all the primary social channels you can think of. I've interviewed Scott Monty, Ford's social media kingpin, a few times about Ford and social media for the FIR podcast.
With vehicle launches, social media has played a prominent role in Ford's activities in various markets – think of the European launch of the Ford Fiesta a few years ago. Consider also how Ford's use of social media played a role in Twitter's decision to open an office in Detroit, announced last month.
And now something else Ford can add to its roster of creative thinking and imaginative use of social media – a campaign launching today with the PeerPerks programme from PeerIndex that offers qualified individuals a special gift about Ford's new 'baby people carrier,' the Ford B-Max, that will launch this summer.
In the campaign – Ford says it's the largest social media influence marketing project ever to be undertaken in Europe – the company will be identifying and reaching out to 1,000 influential social media users in six European markets (France, Spain, Germany, Italy, Romania and the UK) who have significant social influence on topics such as cars, lifestyle and technology, to offer them a special free gift to mark the launch of the new car.
Those influencers will be invited to visit a dedicated microsite (http://www.peerindex.com/vip/bmax) where they can run their Twitter and Facebook presences through PeerIndex to see if they qualify for the free gift.
And the gift? A 3D hologram rendering of the Ford B-Max created with technology previously only used by the US military. It comes with a special torch which, when shined on the image, will reveal the hologram.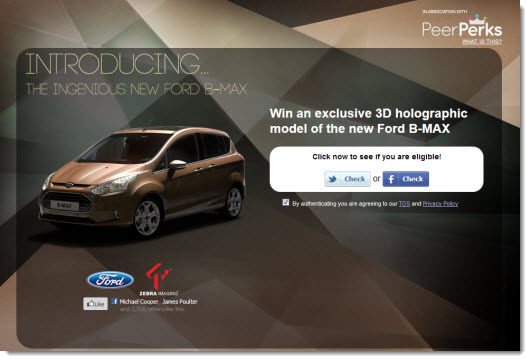 (Just writing about it does little justice to the concept, though – you need to see it. Watch this example video produced by Zebra Imaging, the US firm behind the technology. [Later:] PeerIndex posted a video of the actual Ford B-Max hologram and how it's made. Neat.)
It's an appealing-looking gift, a little out of the ordinary when you think about incentives offered via social media, and draws attention to an aspect of engagement that's we're increasingly hearing about – that of influence marketing.
According to PeerIndex:
[…] PeerPerks is a new service that lets people benefit from their social media profile by giving them the chance to receive free products from brands based on their activity and influence on Twitter, Facebook and LinkedIn. The service connects social media users with brands who want to reach people who are influential in specific topic areas.

The company's technology assesses an individual's social media profiles to identify people with influence on specific topics. It then facilitates a sampling interaction between the brand and the individual, giving consumers a great experience which they can then share with their friends via social platforms.

Azeem Azhar, CEO of PeerIndex, said: "This is a major moment for social influence marketing. The adoption of this approach by one of the world's biggest brands for a pan-European campaign really shows that it's come of age."
How is this different from services like Klout? you may be wondering. And if you've read this blog before, you'll know my views about Klout.
I see it as quite different in one significant way – PeerPerks is separate from PeerIndex. Such transparency makes it's far easier for me to see PeerIndex as a useful tool for influencer identification, and PeerPerks as the separate marketing arm, as it were. No confusion to me on what PeerIndex is actually about. Plus I've met Azeem Azhar and most of his team; I like them!
So I'm looking forward to receiving my Ford B-Max 3D hologram; it'll take a couple of weeks to arrive apparently, coming all the way from the USA. I'll post a video of it when I get it.
In the meantime, Ford is rolling out this social campaign in Europe so if you want to learn what happens with it – and Ford has a great history of sharing their learnings from social media and related activity – keep an eye on #FordBMax
Related posts:
FIR Interview: Azeem Azhar, Founder of PeerIndex – April 4, 2011: "Azeem explains how PeerIndex works and its focus on opinion-formers and -leaders rather than influencers. He discusses the benefits for companies in understanding online authorities and their reach, shares his insights on the evolving ecosystem of online monitoring and measurement in the wake of the Salesforce acquisition of Radian6, and more."
FIR Interview: Scott Monty and Paul Thomas, Ford Motor Company – January 13, 2010: "The conversation includes a contrast in what Ford is doing in North America in social outreach and engagement with what's going on in Europe; the state of the auto industry in Europe and what engagement with customers and others might look like in the future; how technology is rapidly changing the motoring experience, (putting Twitter in cars, for instance), and more."
FIR Interview: Scott Monty, Head of Social Media, Ford Motor Company – December 12, 2008: "Scott talks through the events surrounding a Ford fan site and alleged counterfeit Ford parts, how criticisms of Ford's legal moves blew up across auto-enthusiast and other websites and blogs in a 24-hour period, and the key role Twitter played in enabling Scott to rapidly defuse and help to successfully address those criticisms."