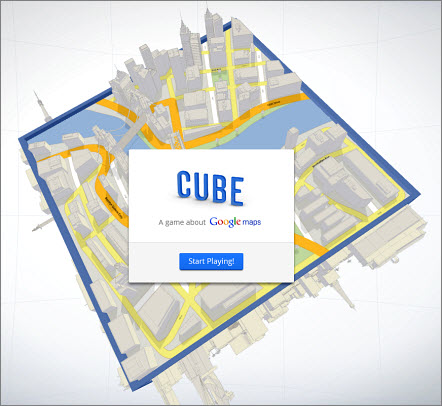 A very neat idea from Google – a game to raise awareness of, and educate you about, Google Maps.
Cube runs in your browser (ideally Google Chrome). You play it by completing levels that set you navigational challenges in various cities around the world. I just completed the first level, navigating to a bowling venue in New York city. When you complete a level, you get a link to learn more about a particular feature of Google Maps.
Fusible has a concise but good description of the game overall.
This is a great example of how imagination and creativity combine to satisfy someone's curiosity and bring a fun and pleasurable experience to discovery and learning. It also showcases a browser's capabilities with HTML5.
Nice work, Google!
Embedded Link
Cube – A game about Google Maps
Play your way through a cubic Google Maps world. Travel through New York, Tokyo and many other cities and learn all about the great features of Google Maps.
Google+: View post on Google+
Post imported by Google+Blog. Created By Daniel Treadwell.