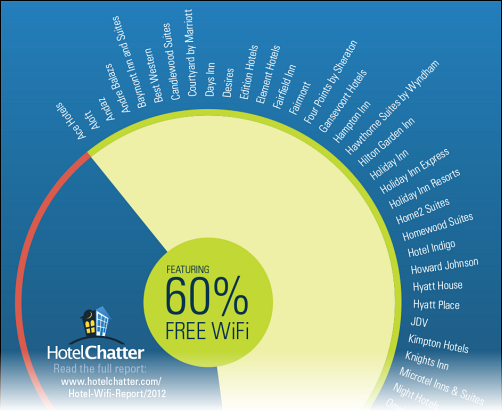 The subject of internet connectivity in hotels has received quite a bit of attention during the past few weeks.
I posted about my experiences with hotel internet connectivity while in Las Vegas and in Amsterdam recently, highlighting a nice way to balance the negative side of this – in my recounted experiences, one offering free connectivity but wired only, no wifi (Luxor, Las Vegas); the other (Crowne Plaza in Amsterdam), imposing an unwelcome charge for the privilege – with a way to get all your devices online without paying extra using a neat tool like Connectify that creates a "personal wifi hotspot" on your Windows laptop or netbook from your single internet connection.
Last year, James Cridland wrote about his experiences with Hilton Hotels and how, in James' view, they are hiding their wifi charges from customers when they book rooms in various Hilton hotels across Europe.
Much weariness with all of this is apparent in a post a few days ago by my podcasting partner Shel Holtz – a frequent business traveller who stays in hotels a lot – in which, following a good experience with wifi at a Delta Hotel in Canada, he writes an open letter to the hotel industry saying that the time for free hotel-wide wifi has come.
From reading both of those posts, it brings to my mind once more the cost puzzle of trying to understand what is the relationship between the price many (most) hotels charge you for internet connectivity, whether wired or wifi, and the cost to them in providing it.
In a very timely moment, via Lifehacker comes a fascinating analysis by HotelChatter, a daily web magazine from Conde Nast Digital, that throws a spotlight on that very subject. In The 2012 HotelChatter Hotel WiFi Report, the magazine gives a pretty good assessment of the broad picture on wifi and charging across the mainly-US hotel industry, with this take on what it sees across that industry:
[…] New problems have popped up too. Guests are getting dinged with internet charges per device (cellphone, tablet, laptop, etc.) because hotel WiFi networks are too antiquated to handle multiple devices per room.

Hotels have also complained that streaming digital media services like Netflix are sucking up precious bandwidth forcing the hotels to invest more money into their networks and (so they claim) to keep on charging guests per day (and per device) for internet access.

But we've got the numbers on how much it costs a hotel to install and maintain a decent network and there's no reason why hotels should be charging us for this service, which is just as important as air conditioning and working toilets, other than it's an easy revenue source.
And there we come to some very interesting numbers, as this snapshot from a compelling infographic HotelChatter produced shows.
In HotelChatter's words:
[…] We've spoken with a few internet service providers and some candid hotel executives about the cost of WiFi and for a 250-room hotel, the cost is about $2.50-$4.50 per room, per month. Hotels on average charge $13.95 a day for WiFi. You do the math. If you still need help, check out our infographic breaking down the costs.

In short, the cost of hotel WiFi is purely a marketing decision. Many hotels resist giving the WiFi up for free because they would be turning their backs on an easy source of revenue. But Michael Strauss, director of finance for the Bryant Park Hotel in Manhattan which recently began offering WiFi for free, said, "[WiFi] is like electricity and water now. We don't charge our guests for that. It's expected." Let's hope that more hotels can be as brave as BPH and start offering it for free.
All of this is by way of understanding what's historical and seeing the shifts that actually are happening – HotelChatter says that the overall picture is more positive than negative, with 60 percent of hotels it surveyed offering free wifi. While I can't tell how this compares to HotelChatter's 2011 report – they don't give the percentage for that year but the 2011 infographic look like it's about 40 percent – it's an improvement without doubt.
Check out the details for 2012:
Overall, an encouraging picture.
Related posts: