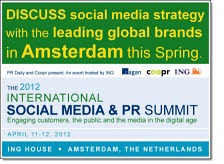 Neville Hobson and Shel Holtz co-presented a session on the second day of Ragan Communications' Public Relations and Social Media Summit at ING House in Amsterdam, The Netherlands, on April 12, 2012. The session covered how a podcast can transform independent listeners into an engaged community.
The presentation included audio clips of familiar FIR voices including correspondents Dan York and Michael Netzley, as well as other PR podcasters, and explored how the communities these podcasts build can be attained by businesses.
You can listen while following along with the PowerPoint deck below:
Get this podcast:

Share your comments or questions about this podcast, or suggestions for future shows, in the FIR FriendFeed Room. You can also email us at fircomments@gmail.com; call the Comment Line at +1 206 338 7960 (North America), +44 20 3239 9082 (Europe), or Skype: fircomments; comment at Twitter: twitter.com/FIR. You can email your comments, questions and suggestions as MP3 file attachments, if you wish (max. 3 minutes / 5Mb attachment, please!). We'll be happy to see how we can include your audio contribution in a show.
To receive all For Immediate Release podcasts including the weekly Hobson & Holtz Report, subscribe to the full RSS feed.
This FIR Speakers & Speeches is brought to you with Lawrence Ragan Communications, serving communicators worldwide for 35 years. Information: www.ragan.com.
(Cross-posted from For Immediate Release, Shel's and my podcast blog.)