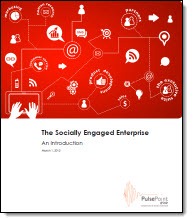 Companies that fully embrace social engagement are experiencing four times greater business impact than less-engaged companies, according to a new study conducted by PulsePoint Group, an Austin, Texas and Los Angeles, California-based management and digital consulting firm.
The study, conducted in collaboration with The Economist Intelligence Unit, involved interviews with hundreds of CEOs. The results led to the identification of six types of socially engaged enterprises and offers insights for organizations that want to assess their own social engagement against their peers.
According to the study, "The Economics of the Socially Engaged Enterprise," most socially engaged companies are led by CEOs and other leaders who advocate for culture change in order to support deeper levels of engagement. Listening centers and influencer engagement are now the price of admission for the most advanced companies, according to the study, which revealed economic and business values for engagement across 10 distinctive social engagement activities.
Pulsepoint has released a slide deck and an executive summary of the study, and plans to release more details at a webinar set for April 19 (registration details).
In this FIR Interview, PulsePoint partner Michael Gale and associate Jacklyn Allgayer discuss the findings of the study with FIR co-host Shel Holtz.
Get this podcast:
About our Conversation Partners
Michael Gale is a partner at PulsePoint Group. He is a recognized industry expert in integrated technology marketing, having founded Strategic Oxygen in 2001, which is widely regarded as one of the technology industry's primary data toolsets for marketers. He has worked directly on over 500 global programs and campaigns for major technology brands for over the last decade and sees the migration of integrated needs to the digital and social landscape as one of the major challenges and opportunities for the next generation of CMOs tasked with taking social beyond a low cost reach alternative.
He is part of PulsePoint Group's team building the social engagement architecture for a range of B2B and B2C industries that range from pharma to high net tech companies. Michael Gale is co-author of "The Economics of the Socially Engaged Enterprise" and continues to lead innovative research initiatives at PulsePoint Group.
Connect with Michael on Twitter at @MichaelGale.
Jacklyn Allgayer is an associate at PulsePoint Group where she specializes in social engagement analytics. This includes examining online conversations and determining stakeholder perceptions around some of the world's most influential businesses and institutions. The insights gained from these analyses inform key recommendations for developing or improving social engagement strategies.
Since joining PulsePoint Group, Jacklyn has worked with numerous Fortune 500 companies including Delta, Dell, and GE among several higher education institutions to develop and manage social media and reputation management programs that include influencer engagement, digital monitoring and response, content strategy development, issues management and social stakeholder engagement. Jacklyn continues to conduct key research that validates the conclusions reached in "The Economics of the Socially Engaged Enterprise."
Connect with Jacklyn on Twitter at @JacklynAllgayer.

Share your comments or questions about this podcast, or suggestions for future interviews, in the FIR FriendFeed Room. You can also email us at fircomments@gmail.com; call the Comment Line at +1 253 780 9125 (North America), +44 20 3239 9082 (Europe), or Skype: fircomments; comment at Twitter: twitter.com/FIR. You can email your comments, questions and suggestions as MP3 file attachments, if you wish (max. 3 minutes / 5Mb attachment, please!). We'll be happy to see how we can include your audio contribution in a show.
To receive all For Immediate Release podcasts including the weekly Hobson & Holtz Report, subscribe to the full RSS feed.
This FIR Interview is brought to you with Lawrence Ragan Communications, serving communicators worldwide for 35 years. Information: www.ragan.com.
Podsafe music – On A Podcast Instrumental Mix (MP3, 5Mb) by Cruisebox.
(Cross-posted from For Immediate Release, Shel's and my podcast blog.)