Austin, Texas-based Dachis Group defines itself as an organization that "powers the design, development, management and measurement of social business solutions for the world's leading companies."
To this end, among the products and services the company offers is the Social Business Index,  a tool that, they say, sucks in data from over 100 million social accounts for more than 30,000 brands every 15 minutes to build a real-time picture of the success of brands and companies in their social engagement work.
While social media monitoring helps companies listen to conversations they are not part of, Dachis says the index is about assessing the outcome of conversations initiated by those companies.
In this FIR Interview carried out in Dachis' London office, Erik Huddleston, the company's Chief Technology Officer, explains to FIR co-host Neville Hobson how this and other Dachis offerings help global companies like IBM,  Estee Lauder, Telstra, Samsung, Dell, Levi's, Target, Coca-Cola, Red Bull, Cisco and others uncover insights, take action on those insights and measure the performance and ROI of those actions.
Get this podcast:
About our Conversation Partner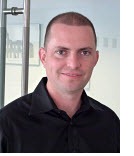 Erik Huddleston is the Chief Technology Officer at Dachis Group. He leads the go to market and product delivery for Dachis Group's groundbreaking Social Business Intelligence as a Service (SBIaaS) platform, SaaS applications, and managed services. Erik is passionate about the transformational potential of social and big data for the world's largest companies.
Erik came to Dachis Group from Inovis, where he served as Chief Technology Officer and drove the vision, development, and evangelism for their cloud integration, analytics, and social supply chain offering. Erik joined Inovis through the acquisition of BetweenMarkets, the leading provider of partner performance management applications, where he served as founder and CTO. While at BetweenMarkets, Erik drove an agile product and development organization and helped dozens of the world's leading companies solve their Business Community Management challenges.
Prior to founding BetweenMarkets in 2000, Erik architected consumer and retail analytics products at two enterprise software startups: eCustomers, a retail merchandising software provider; and SMART Technologies, an ecommerce and consumer personalization software provider acquired by i2 Technologies.
Connect with Erik on Twitter: @ehuddleston.

Share your comments or questions about this podcast, or suggestions for future interviews, in the FIR FriendFeed Room. You can also email us at fircomments@gmail.com; call the Comment Line at +1 253 780 9125 (North America), +44 20 3239 9082 (Europe), or Skype: fircomments; comment at Twitter: twitter.com/FIR. You can email your comments, questions and suggestions as MP3 file attachments, if you wish (max. 3 minutes / 5Mb attachment, please!). We'll be happy to see how we can include your audio contribution in a show.
To receive all For Immediate Release podcasts including the weekly Hobson & Holtz Report, subscribe to the full RSS feed.
This FIR Interview is brought to you with Lawrence Ragan Communications, serving communicators worldwide for 35 years. Information: www.ragan.com.
Podsafe music – On A Podcast Instrumental Mix (MP3, 5Mb) by Cruisebox.
(Cross-posted from For Immediate Release, Shel's and my podcast blog.)