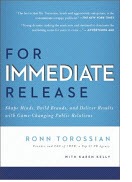 FIR Book Review Editor Bob LeDrew reviews the new book by 5WPR founder, president and CEO Ronn Torossian, For Immediate Release (no kidding). The book's subtitle is Shape Minds, Build Brands and Deliver Results with Game-Changing Public Relations.
From the book description:
"It is essential that businesses know how to communicate quickly, often pre-emptively, and effectively to survive – and at a cost that is far lower than comparable marketing and ad campaigns. The first book by the owner of a top 50 PR agency (5WPR), For Immediate Release, Ronn Torossian reveals how public relations can do just that – while also defining brands; helping companies and individuals court the press or avoid it; growing business without alienating loyal customers; resolving crises quickly; and improving first page results on the most powerful search engine in the world (Google)."
Get this podcast:
For Immediate Release: Shape Minds, Build Brands, and Deliver Results with Game-Changing Public Relations by Ronn Torossian
Publisher: BenBella Books
Hardcover, 288 pages
Published October 2011
ISBN-10: 11936661160
ISBN-13: 978-1936661169
Purchase at Amazon US (US Kindle edition), Amazon Canada, or Amazon UK (UK Kindle edition).

Share your comments or questions about this podcast, or suggestions for future shows, in the FIR FriendFeed Room. You can also email us at fircomments@gmail.com; call the Comment Line at +1 253 780 9125 (North America), +44 20 3239 9082 (Europe), or Skype: fircomments; comment at Twitter: twitter.com/FIR. You can email your comments, questions and suggestions as MP3 file attachments, if you wish (max. 3 minutes / 5Mb attachment, please!). We'll be happy to see how we can include your audio contribution in a show.
To receive all For Immediate Release podcasts including the weekly Hobson & Holtz Report, subscribe to the full RSS feed.
This FIR Review is brought to you with Lawrence Ragan Communications, serving communicators worldwide for 35 years. Information: www.ragan.com.
(Cross-posted from For Immediate Release, Shel's and my podcast blog.)