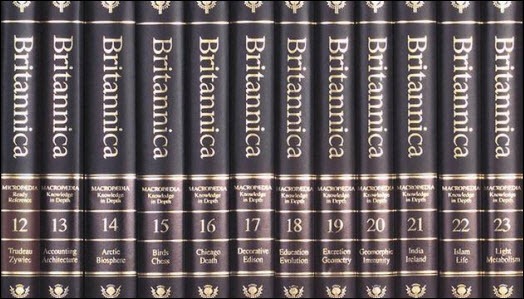 A milestone has been reached in the evolution of factual reference information with news that probably the most famous of all general reference works in the English language, the Encyclopaedia Britannica, will stop making the printed encyclopedia after 244 years of uninterrupted publishing.
For 244 years, the thick volumes of the Encyclopaedia Britannica have stood on the shelves of homes, libraries, and businesses everywhere, a source of enlightenment as well as comfort to their owners and users around the world.

They've always been there. Year after year. Since 1768. Every. Single. Day.

But not forever.

Today we've announced that we will discontinue the 32-volume printed edition of the Encyclopaedia Britannica when our current inventory is gone.
Reports and posts are starting to appear and I'd expect to see many more in the coming days. Some of them undoubtedly will be like eulogies. Many will be emotionally focused, bewailing the end of beautiful books, the relentless advance of the internet and digital, etc.
Yet the inevitable writing has been on the wall for a long time for a print product like Encyclopaedia Britannica, especially in the face of a competing and open online information resource called Wikipedia.
[…] The 1990 edition sold 120,000 editions in the United States — the most ever — but the 2010 edition sold just 8,000. Four thousand copies are still in a warehouse, waiting for owners. Today, the printed encyclopedia accounts for less than one percent of the company's revenues.
I remember a campaign Britannica launched in 2008 in the US and the UK to "socialize" its content with a programme aimed at bloggers, academics and others who publish on the web that gave access to content behind the subscription paywall and enabled you to openly share links to that content just as you can do with Wikipedia. (Disclosure: I worked with my colleague Shel Holtz and with Britannica – Shel's client – on influencer outreach in Europe as part of their communication activity for that campaign.)
Although response to that idea was, generally, positive and constructive, I don't think it really worked for Britannica.
Of course, Britannica has embraced the digital realm with its information products – just take a look at the website to get an idea of how far-reaching that embrace has been since the early 1990s.
I wonder, though, if they've embraced digital in the right way. For instance, they make great play of their DVD-based products where you don't need online access to get content. That doesn't really fit with behaviours these days, certainly not with younger generations. And what about mobile access? You just want to go, click (or tap), and get your content. Simple and easy.
I get regular marketing emails from Britannica with offers to DVD versions of their products. Recent such emails have smacked a little of desperation, it seems to me, with whopping discounts, turning Britannica into a cheap brand in my eyes.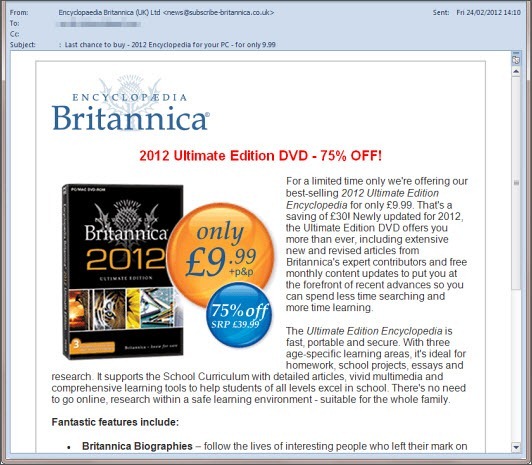 .
You'd be forgiven if this reminds you of products from the 1990s like Encarta, Microsoft's encyclopedias with a wealth of content on CDs (this was pre-DVD time) which you complemented with updated content from an account you opened on a website. Or you upgraded each year to a new version – and paid handsomely.
A nice little earner at a time when you had little credible competition.
All that changed with Wikipedia.
This isn't so much about deeply-trusted content or sources of that content as it is about how easy and low cost it is to get at that content, all of which is online, making it easy to access from almost any browser-capable device that has an internet connection. It literally became no contest as Wikipedia grew and Britannica didn't change much in this regard.
Also, belief in Britannica as the trusted source for reference information was dented over the years with research that said, in essence, that there was little difference in content accuracy between Britannica and Wikipedia.
So a milestone has now been reached and digital – specifically, the internet as an easy access method – has emerged a victor.
Still, some half a million people are willing to pay for access to Britannica content online, according to The Atlantic. Maybe its future will be as a paid-content leader, leaving the open and free mass market to the likes of Wikipedia?
Related post: