FIR co-hosts Neville Hobson and Shel Holtz interview Sharon McIntosh, Senior Director, Employee Communications at PepsiCo. Sharon has led an effort to get employees trained on social media policies, platforms and practices, then get those who want to to engage with their online communications about PepsiCo – in an authentic and transparent manner that bolsters the company's reputation. (Disclosure: PepsiCo is one of Shel's clients.)
One of those efforts – letting employees share content from the daily internal email newsletter with their social communities – was covered recently in Information Week magazine. Among the items the article reported was Inside Scoop, a page on PepsiCo's website that lists employee-shared items.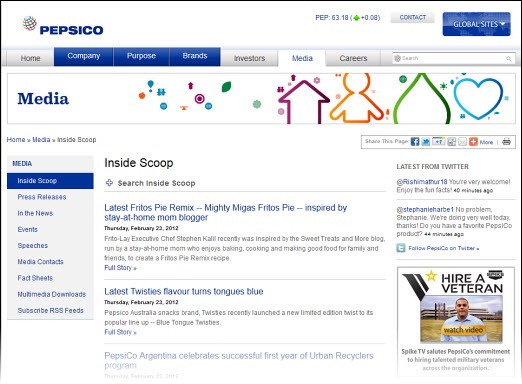 The article points out these links have generated about 30,000 visits, comparable to the number of visits to a company-issued press release.
Sharon also talks about the extensive internal research that led to the initiative, along with the internal social media training program that has empowered employees to share information about their employer online.
Get this podcast:
About our Conversation Partner
Sharon McIntosh is senior director of Global Internal Communications for PepsiCo, overseeing the internal strategy and channels for the company's nearly 300,000 associates.
She previously worked in internal communications, corporate communications, marketing and media relations at a range of companies, including Sears, Waste Management and the Illinois Hospital Association.
Connect with Sharon on Twitter: @mcintoshs.

Share your comments or questions about this podcast, or suggestions for future interviews, in the FIR FriendFeed Room. You can also email us at fircomments@gmail.com; call the Comment Line at +1 206 222 2803 (North America), +44 20 3239 9082 (Europe), or Skype: fircomments; comment at Twitter: twitter.com/FIR. You can email your comments, questions and suggestions as MP3 file attachments, if you wish (max. 3 minutes / 5Mb attachment, please!). We'll be happy to see how we can include your audio contribution in a show.
To receive all For Immediate Release podcasts including the weekly Hobson & Holtz Report, subscribe to the full RSS feed.
This FIR Interview is brought to you with Lawrence Ragan Communications, serving communicators worldwide for 35 years. Information: www.ragan.com.
Podsafe music – On A Podcast Instrumental Mix (MP3, 5Mb) by Cruisebox.
(Cross-posted from For Immediate Release, Shel's and my podcast blog.)