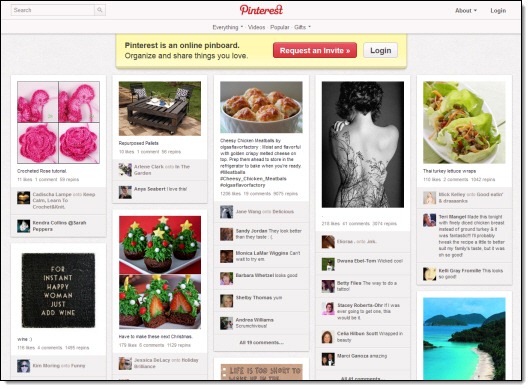 One online property that's been getting huge attention over the past few weeks is Pinterest, the join-by-invitation content-sharing and social networking service.
Not only huge attention but also huge take-up by its users – TechCrunch reported earlier this month with data from comScore showing Pinterest reached 11.7 million unique monthly US visitors, crossing the 10 million mark "faster than any other standalone website in history."
Like many other people, I've been experimenting with Pinterest although I've yet to really get going and 'pin' much content that I gather from my travels around the web that I'd want to share with a community at Pinterest. Clearly I'm not the right gender demographic anyway as 97 percent of Pinterest users are female, says PC Magazine.
Be that as it may! If you use Pinterest, I'm making it simple for you to share content you find on this blog as Twitter Facebook Google Plus One Social Share, the WordPress plugin I use that creates the social sharing buttons you see at the end of each post, now includes a Pinterest sharing button.

Any of my content you share from NevilleHobson.com – whether it's text, an image, video or audio – is covered by a Creative Commons license. Whatever service you use to share it, you don't need to ask my permission beforehand. As long as you abide by the terms of that license, or agree a change in those terms with me first, you're ok from a copyright perspective.
That may not be true elsewhere on the web, though.
According to Business Insider, Pinterest might be enabling massive copyright theft through the way in which its service makes it easy for anyone to simply post anything they see on the web to their account on Pinterest. A couple of clicks (or taps on the mobile app), and you're done.
What about copyright?
Pinterest themselves make it clear in their terms of use that you shouldn't post anything on which you don't have the rights or if you don't have permission to do so, as the Business Insider report notes:
[…] In its terms of use, Pinterest actually specifies that users shouldn't pin photos they don't own the rights to, a request that is being ignored to an absurd degree. Even if you link and attribute, that does NOT absolve you of the fact that you took someone else's work and re-appropriated it.
Those terms of use include this clause:
You agree not to do any of the following:

Post, upload, publish, submit, provide access to or transmit any Content that: (i) infringes, misappropriates or violates a third party's patent, copyright, trademark, trade secret, moral rights or other intellectual property rights, or rights of publicity or privacy; […]
Business Insider's report also goes into a detailed discussion in an FAQ format that explores the many and complex issues related to copyright, fair use (fair dealing in the UK), transformative works, and more:
[…] But the big problem is that it grabs entire copyrighted works to re-post. This could be hard to overcome, especially as Pinterest starts growing and becomes more of a destination for a greater audience. The more time users spend on Pinterest, one assumes, the less likely they are to click out to other sites. And why click out when you can see the whole picture right there?
It's an interesting situation, one that may well result in someone mounting some kind of legal challenge in one jurisdiction or another to test the copyright water, especially if Pinterest starts to make money from their service (which they say they aren't yet). Once that happens, someone is sure to sue when they find their content on or linked to at Pinterest, the act of which infringes their rights to an extent that it just can't be ignored.
I think it's another example of digital technology and the internet enabling people to do things that copyright laws never imagined when they were drafted (and amended over time), and now looking woefully out-dated if not out of touch with contemporary society. The web moves faster than the law.
Unless or until any legal challenge happens, I'd be careful to acknowledge other people's intellectual property rights first and foremost.
[Update Feb 21] Pinterest has taken a step to address the copyright issue with the release of code that website owners can place on their web pages that prevents anyone 'pinning' images from their site.
An additional text in their help section includes this:
What if I don't want images from my site to be pinned?

We have a small piece of code you can add to the head of any page on your site:

<meta name="pinterest" content="nopin" />

When a user tries to pin from your site, they will see this message:

"This site doesn't allow pinning to Pinterest. Please contact the owner with any questions. Thanks for visiting!"
It's a good start but I wonder if it will be enough to satisfy critics as well as actually combat what some see as content theft and others as just linking. This only addresses images not text or other content. Still, Pinterest has also set a limit of 500 characters to text content which will address the people who scrape whole blog posts and other text content.
Yet I wonder if many websites will add the code at all. And would it not be best if the code was more about opting in rather than opting out? But that would be a wholly different scenario for Pinterest and its users as that would mean websites having to enable a code to permit pinning rather than it being the 'default by inaction' as now.
All part of the figuring-it-out process.
(Via LLSocial.com via Mashable)