Social Media Week took place last week in more than a dozen cities around the world including London.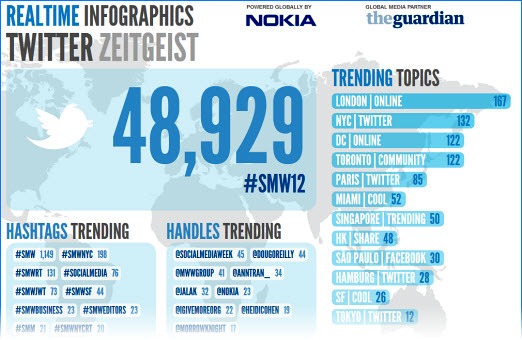 It's only a few days since events concluded so I've yet to see any in-depth analysis of how it all went on a global perspective: how many people participated, what the key topics and trends were in each city, etc. (I'll update this post as I discover new content that others will post.)
The Twitter zeitgeist graphic you see above and others on the SMW global website give you an indication. And there's plenty of commentary and opinion on each SMW location and individual events – just take a look at the global #smw12 hashtag, the city hashtags (London is #smwldn) as well as specific hashtags for individual events to get a good sense of what people were saying last week.
Many events in many cities were video-streamed live and you can see the recordings at Livestream. Not everything is there yet, though, if London is any indicator.
I'm looking forward to seeing reports, opinion pieces and other content as it get published. In the meantime, I'd like to share some concise thoughts of my experiences at two events in London in which I participated as a speaker, and one event in which I was there in the crowd.
Wednesday Feb 15: Social Business Immersive by Like Minds – #likeminds

[A panelist's view of the audience]
There were two connected events: presentations and Q&A in the morning (the link in the title above takes you to the details), plus a panel discussion in the afternoon on the broad topic of "The Future of Social Media in Business"; and a private dinner in the evening.
Each session was well attended with the panel full to the brim (see pic above).
Impressive listening to what my fellow presenters had to say: JP Rangaswami, Euan Semple, Joanne Jacobs, Jon Ingham, Delphine Remy-Boutang and Lee Provoost. Each presentation was blogged live as it happened – terrific work by Adam Tinworth – so you can read what each of us talked about in our presentations.
One thing every speaker had in common – stressing the importance of listening rather than talking.
Best Buy as an example of a company with excellent practice using social media to support business goals was mentioned in three separate presentations (including mine), and in the panel discussion.
Nearly all questions for presenters and panelists from people in the audience – physically in the same room as all of us – were tweeted rather than asked. Interesting: anyone who saw a question-tweet could add their opinion to the conversation. At the least, it meant that anyone on Twitter could see who was asking what.
The panel discussion was also blogged live, thanks to Adam Tinworth once again.
There was no "Twitter wall": it would distract from the discussions, said Like Mind's Andrew Gerrard.
The Like Minds Club in London – around the corner from Trafalgar Square and a minute's walk from Embankment tube station – is a terrific venue for an intimate event like this: comfortable, spacious rooms and easy to get to. Coffee wasn't bad either. Wifi reasonable although it tended to wheeze if anyone did anything a bit more than web, Twitter or email: live-streaming a video, for instance, wasn't a good idea.
Loved the evening dinner with plenty of stimulating (and at times, passionate) conversation. We all agreed to follow the Chatham House Rule hence no details here. I can share the dinner menu, though :)
I take my hat off to Drew Ellis, Scott Gould and especially Andrew Gerrard of Like Minds – excellent organization of a very good day.
More links:
Thursday Feb 16: Making Social Part Of Your DNA by Klaxon Marketing – #smwdna

[Cisco's Emma Roffey on stage]
This full-day event was held in the Arts Theatre, just off Leicester Square in London. I'd heard it would be "theatre style" – well, it was indeed, literally, making for an interesting experience as a presenter, being on stage just as with a live theatre production with the actor's view of the audience in serried rows, and squinting to see anyone in the glare of the spotlights. Actually, it was fun!
I was there for the morning sessions, so heard and saw presentations by JP Rangaswami, Emma Roffey, Fergus Boyd, and Eve Critchley.
The theatre is a fascinating venue for an event like this: an old building (with seats that felt equally old) yet able to handle contemporary requirements in an event where it's now common practice for everyone to have a laptop or mobile device and be connected to the net while experiencing the event itself.
A theatre-style presentation in an actual theatre doesn't lend itself well to intimacy (eg, unlike the Like Minds event I participated in the day before), so making your presentation more like a presentation, ie, a remote delivery of information.
The huge screen on which presenters presented their PowerPoints was excellent viewed from out in the auditorium although front rows offered an overwhelming experience from being so close to the huge screen, just like being in the front rows in a cinema.
There was good wifi although I found my Three cellular signal strong everywhere in the theatre building.
Lots of people from Klaxon were involved to organize this event, many of whom I bumped into (literally) when moving through the rabbit-warren theatre stairways behind the scenes. Thanks to all of them and especially to Martin Thomas, Andy Bargery and event live blogger Teodora Beleaga.
More links:
Thursday Feb 16: Social Media, the Olympics & BBC – Preparing for London 2012 by the BBC – #smwbbc

[Olympic medallists, BBC journalists and a Twitter wall]
This panel discussion – which sold out within minutes of it being announced earlier in the week – looked at the role social media will play in the build-up, broadcasting and coverage of the 2012 Olympic Games in London in July, and how athletes use Twitter in their preparation.
The BBC's Head of London 2012, Roger Mosey, hosted the session. The panel comprised reigning Olympic and world championship rowing gold medallists Zac Purchase and Mark Hunter alongside Gail Emms (badminton Olympic medallist and BBC broadcaster), the BBC's Digital Olympics Editor, Lewis Wiltshire – who's leaving the BBC to join Twitter UK next month – and James Pearce, one of the BBC's top sports reporters.
Access to the event room in the Design Council was tightly controlled: not surprising, I suppose, given how in-demand it was with all seats sold out. Quite a bit of push-and-shove to get in from the eager crowd.
Twitter played a front-stage role in this event, as evidenced by its dominant presence as a Twitter wall (see the pic above).
Roger Mosey was a good host, keeping things flowing along nicely. But I wish he hadn't talked about Twitter in that juvenile and patronizing way that seems to be common with some mainstream media folk, with smiles and giggles when talking about people who tweet about their coffee, etc, with the "who on earth would be interested in that?" type of commenting. Surely we're past all that now, especially from someone whose job title says 'Head of London 2012.' and where, as we learned, Twitter will play a huge role.
Each of the athletes had common-sense things to say about how they use Twitter, sensibly addressing questions or comments related to the seeming triviality of the medium and on celebs behaving badly and how social media lets people amplify behaviours good or bad. Each was very clear that they don't behave badly in their lives and so, nothing negative for social media to amplify about them.
The 2012 Olympics will be the biggest event the BBC has ever done, said Roger Mosey. He said it will be the first sports event where social media is an integral part of the broadcast mix.
The BBC has big plans for taking advantage of the latest digital technologies. Mosey spoke of 24 high-definition (HD) live broadcasts for 17 days of the games, with the opening and closing ceremonies also broadcast in 3D. TV channel BBC 3 will be "the Olympics channel."
Mosey posed an interesting question to the audience on what we thought of the notion of tweets being broadcast with the Olympics coverage on BBC 1. The majority didn't think it was a good idea; I think it's an interesting one especially if the viewer has control, ie, has a means to decide yes or no, maybe via the Red Button. You would opt in to see tweets if you want them.
Like many other SMWLDN events, this one was video-streamed live. But this was the BBC doing it so high expectations on quality, presentation, etc. Well met!
Congratulations to Sophie Brendel, the BBC's Head of Digital Engagement, for organizing such an excellent event.
More links:
And a couple of final thoughts.
Three things especially struck me about what I saw and experienced at Social Media Week London where Twitter is concerned:
Twitter is an integral element of a public event, or series of events, such as took place this past week. It offers huge advantages to event organizers and participants alike in content sharing, buzz building and other social activity, amplifying reach and coverage of the event and the people involved in and with it.
Twitter is your instant feedback channel, giving your audience the power and ability to comment on your presentation as it happens, and very publicly. A brilliant source for praise and support if you're good. It's a double-edged sword, though, as your Twitter critics will be brutal if you don't live up to their expectations.
At two of the events, there was no Twitter wall. As I mentioned in my comments above about the Like Minds event, the view there was that it would distract people from listening to and interacting with the presenters and participants. For the Klaxon event, I'm guessing that the theatre-stage setting wouldn't have worked well with a Twitter wall as it may have needed a screen of similar size to the main one. Maybe logistics prevented it. In contrast, a Twitter wall played an integral role in the BBC event. My point is that featuring a Twitter wall (or not) is now a key part of your planning process rather than a casual matter or simply an after-thought as has been largely the case so far. Another aspect of the maturing of Twitter into the mainstream.
How was Social Media Week for you?