The Chartered Institute of Public Relations (CIPR) launched a social media newsroom on January 23. In their words, it "integrates announcements on our website with our Twitter feed, Facebook and LinkedIn pages and with the CIPR Conversation."
It's a good example of an organization evolving how it communicates information about itself (and, in this case, about a profession and its membership) and how it enables easier sharing of its content in ways that are measurable, eg, social-share buttons, and linking content in diverse online places.
I heard about the newsroom yesterday when I was out and about in London. I'd just finished a meeting so a moment to check email, Twitter and Google+ on my mobile device. No wifi at that moment but a good connection via 3 UK's cellular network. A note on G+ from David Philips had the news. Naturally, I clicked the link and headed over in my mobile browser to take a look.
What a disappointment! What I got was the desktop website squeezed onto the 4.3-inch display on my Samsung Galaxy SII smartphone.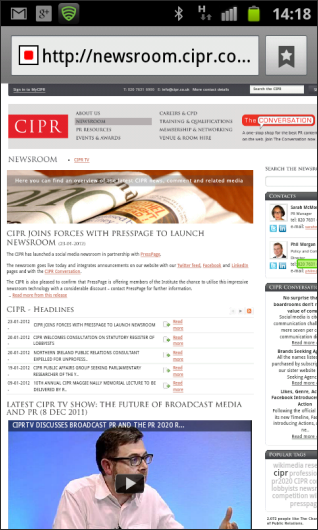 The news site – indeed, the entire CIPR website – doesn't offer a version that's designed for use on a mobile device. As you can see from the screenshot, the site is, in essence, unusable on a mobile device like a smartphone.
Yesterday on Twitter, the CIPR's Andrew Ross said that they haven't yet made the step to a mobile site. Matt CIPR added that a mobile version is in the pipeline, "but it should still display ok on most smart phones."
Hmm, I guess that depends on how you define "ok" in this context. In my initial experience, definitely not ok.
Think about it: you're out and about, you want to see something on the CIPR's website – read a news announcement, check some information, sign up for a course, maybe add a comment on The Conversation – but you get only the desktop website on your mobile. And that gives you the desktop experience – not really workable on a mobile device like a phone.
Just try the screen-pinching, squinting, "precision" finger-tapping and swiping in a busy Starbucks, never mind on a crowded bus. And if your cell connection isn't that good, it will be like watching paint dry as the page attempts to load in all its graphical glory.
Not something you want to do more than once.
Undoubtedly the experience will be better on a larger-screen mobile device, eg, an iPad or one of the myriad Android tablets with their seven- to ten-inch screens. But display is only one part of the picture, as it were – great to be able to clearly see what you want, it's then how you use that content on a device that you touch to interact, not point and click or hit an enter key.
Whether or not we're embarking on the "Post PC Era," there is no question that the "Mobile Era" is here.
Smartphones have become an integral part of people's daily lives wherever they are: we use smartphones as an extension – even a replacement – of our desktop or laptop computers these days as we multi-task and, whether it's for business or personal, consume and quickly share other content.
I do hope a CIPR mobile-optimized site comes very soon. In the meantime, enjoy what is a good resource on your desktop.Just don't expect much if you try it on a mobile.
Related posts: