A few days ago, on December 7, I began my sixth year on Twitter. As with many things on the social web, there's a free service that told me of the anniversary, and another one that sent me a 'birthday card'.
Over 47,000 tweets later, what have I learned about this short-form thought-sharing medium? Well, the over-riding feeling I have is a simple one – there is no single way to use Twitter.
You're a marketer? Then Twitter can be a marketing channel. A student? A chat tool for your friends. A politician? A medium for your sound bites. Selling something? A notification method of good deals. An activist? Quick connections. And so on.
I don't fit any of those labels, yet I often use Twitter in ways such as those I mentioned along with others like tweet chats and live-tweeting events. Overall, though, I regard Twitter more as an informal communication method – much as the sentiment describing it when it first appeared – that complements other methods such as blogs (and indeed, can serve a valuable purpose of alerting your community to news and events), and I tend to use it as such: connecting with people as the moment presents itself, thinking out loud, note-taking, whatever suits. I write my own tweets and use the service manually, ie, no automated tweeting method nor any pseudo-scientific approach of alarm-clock tweeting.
Luckily, we're all different and the Twitterverse is enriched – largely – by the myriad different ways people think about Twitter, what it is to them and their communities and how they use it, wherever they are in the world.
A few months ago, Twitter CEO Dick Costolo said the service has 100 million monthly active users worldwide; out of that group, 50 million people log in every day. And the latest metric a couple of weeks ago – English, Japanese and Portuguese may be the top three languages for tweeting, but the fastest-growing language is Arabic by a factor of over 2,000 percent. Social upheaval in the Arab world this year is undoubtedly a driving force for that.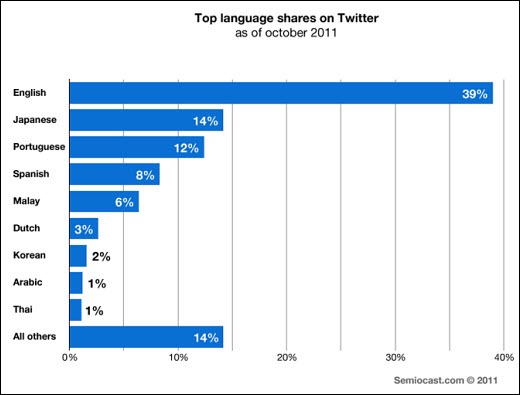 Twitter's growth over the past five years has been spectacular. It's a poster child for the social web and something that captures imaginations to become an icon of popular culture.
Today, Twitter undoubtedly is mainstream in terms of public consciousness if not universal use.
And the latest moves during the past week involve a new look and some new functionality for the Twitter website, updated apps for the desktop and mobile devices, as well as business-focused features like brand pages.
Yes, there are plenty of different ways to to think about and use Twitter no matter how you approach it.
Useful information: