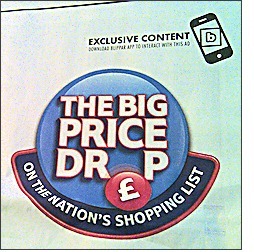 I noticed something different about an ad in the Telegraph yesterday by UK supermarket chain Tesco, advertising its price-drop campaign – an offer of exclusive content if you "interact with this ad" via your smartphone and an app called Blippar.
The ad is part of an integrated advertising campaign in which Blippar plays a central role.
I came across UK-based Blippar only a few weeks ago. The company describes itself as "an image recognition/tracking platform for brand to consumer interaction." As with those ubiquitous QR codes you see popping up everywhere, you use the Blippar app to view an ad using the camera on your iPhone or Android device and receive an instant response whether a web link, video, coupon, or perhaps a 3D product experience or augmented reality game. "You won't know what until you blipp," says the company.
The similarity to QR codes is purely in how you use your smartphone and its camera, though, as this promo Blippar video on YouTube illustrates.
I tried the Blippar Android app with the Tesco ad. Not sure how my experience was, in reality; the app is in beta so I expect my experience isn't how it will eventually be. Blippar says one more Android beta version is coming, implying a full release version soon.
This is an interesting development in the retail landscape where economic realities mean that keen pricing and measurable value for money are two of the top new customer loyalty metrics for many people. It illustrates that innovation is alive and well in a market also dominated by consumer demand for ways to shop that reflect high experiential expectations in contemporary society.
Tesco is one of the leading-edge experimenters in this regard (think of what they've been doing with QR codes in South Korea, for instance). Yet they're not alone – there's plenty of envelope-pushing going on:
What a great time to be a shopper, especially with a mobile device!
Related posts: