As more than 100,000 others did, I sat at a computer last evening to watch the live video stream of Facebook founder Mark Zuckerberg deliver his keynote speech at the start of f8, Facebook's annual developer conference in San Francisco.
Over the course of almost an hour, Zuckerberg laid out his grand plan for the evolution of Facebook that intends to catapult the social networking site back into the mainstream of people's online lives.
It's the hotly-anticipated culmination of some radical changes to the service during the past week or so that have stimulated much commentary and opinion across the full emotional spectrum.
What Zuckerberg showed last night will undoubtedly do the same in the coming days.
So what is the rebooted Facebook? Zuckerberg showed four distinct areas of change in what the site will look like and what you can do there – a timeline that will be your new profile; a new way in how Facebook apps will behave and how you use them; integration of music, movies and more right into your social experience on Facebook; and evolving the concept of liking something into far more broader sharing of your activities (almost in the Twitter sense of 'what are you doing right now?')
Among the credible commentaries online already that attempt to explain all the new features, first reports by Mashable, Gizmodo and BBC Technology are worth reading.
It's the timeline feature that has grabbed everyone's attention right now. It's quite a radical change in how you see your content in your Facebook account, and how you interact with it, presenting it to you in a continuous, well, timeline that can stretch as far back as when you were born, if there's anything about you online that you've shared or your friends have. Note that such content will have always been in Facebook; now it's more easily seen.
(Personally, I love the new timeline. As someone who hardly ever uses Facebook even though I've been there since April 2007, this feature may well reboot my own use of the social networking site.)
Everyone's profiles will convert to this new format on September 29. If you want to experience it before then, TechCrunch explains how to make the conversion right now. I did that last night and the screenshot shows the result (which you can see in real time if you visit).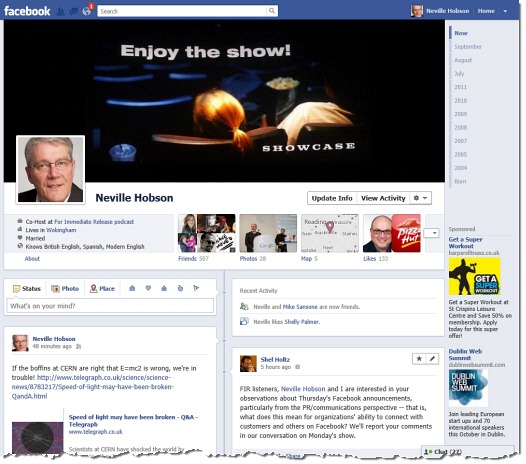 As with anything that changes the familiar, there's plenty of user criticism already. Will it result in a mass exodus of disgruntled users, perhaps flocking to Google+? What will it do for business? How about music and movies – will the integration of services like Spotify and Netflix stimulate the music and movie market, perhaps at the expense of illegal file sharing? And what about Google+ and Twitter – where does rebooted Facebook leave them?
Terrific questions, among the ones that Shel Holtz and I plan to talk about in the next episode of our FIR podcast on Monday September 26. We'll also discuss what you have to say about it, if you care to contribute a comment (if you're an FIR listener, join us in the FIR Room on Friendfeed).
Finally, while watching Mark Zuckerberg last night, I sat with camera in hand taking snaps on what I was watching. Those 82 pics are in an album online (ironically, at Google+). I also made an Animoto video which I like doing – animated pics set to a music track which tells a story too. Take a look on YouTube and see what you think.
Facebook. Rebooted. Disruptive.
Related posts: